Traders in World's Longest Work Day Plead for Shorter Hours
People working some of the longest days in world equity markets would like them to be shorter, a Bloomberg News survey showed.
Across Europe, 74% of finance professionals, including traders, analysts and fund managers, said they favor reducing the current 8 1/2-hour stock market day -- which exceeds the U.S. by two hours.
The results of the survey lend weight to a proposal by two professional bodies to shorten market hours for reasons including the concentration of liquidity in the first and last hours of trading, the short time window between corporate news releases and the market open, and the need to improve the work-life balance and diversity at financial firms. The Association for Financial Markets in Europe (AFME) and the Investment Association of U.K. asset managers asked bourses in November to consider cutting 90 minutes from their trading day.
"Making trading hours shorter will improve market efficiency," said Matthew McLoughlin, a London-based partner and head of trading at Liontrust Investment Partners LLP and a member of the Investment Association's buy-side trading committee. "There's no benefit in spreading liquidity out over a longer period than necessary."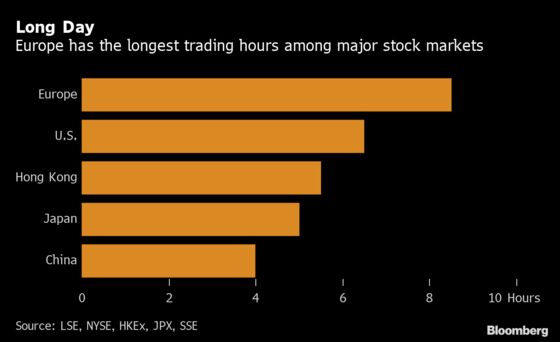 In an informal survey, Bloomberg News asked 114 market participants, with 52% based in London and the rest spanning other major European cities, including Paris and Amsterdam. About two-thirds of the respondents were traders, 17% fund managers and 16% analysts.
A reduction of the trading day by one hour is favored by 51% of those who advocated shorter hours, while 34% would like to see it cut by 1 1/2 hours. Overall, a later start to the European stock market open would be appreciated by 78% of those respondents and 75% are in favor of an earlier close.
While there is no strong consensus on what the hours should be, the most popular response, favored by 28% of respondents, was to delay the market's opening time by an hour to 9 a.m. London time and bring forward the close by 30 minutes to 4 p.m.
Advances in technology over the last 20 years that make it easier to trade from remote locations around the globe are one reason why market hours don't need to be as long as they are in Europe, according to Helen Thomas, a former head of active currency at State Street Global Advisors who now runs a macroeconomic consulting firm.
"Markets these days are much more efficient in terms of trading cost and technology improvement, so people can trade more easily and more quickly from anywhere in the world," she said.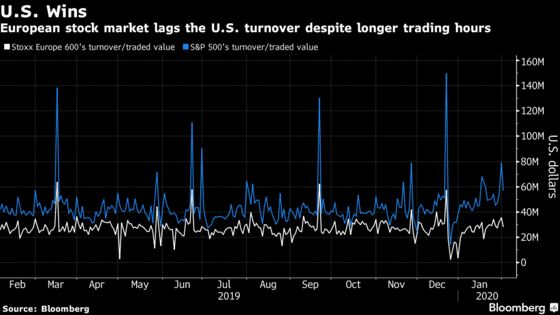 London's 8 a.m. market start means most traders need to be at the office by 6 a.m., making it more challenging for parents with young children to work as traders because it's "impossible" to find childcare at 5 a.m., Liontrust's McLoughlin said. The long hours and early start also deter recent university graduates from going into equity trading because they can instead work for technology firms that offer flexible hours and a work-life balance, he said.
Shorter sessions "could help change the perception of the industry with different generations, which could in turn, help attract people who wouldn't normally consider a career in asset management," said Louise Drummond, deputy global head of investment execution at Aberdeen Standard Investments.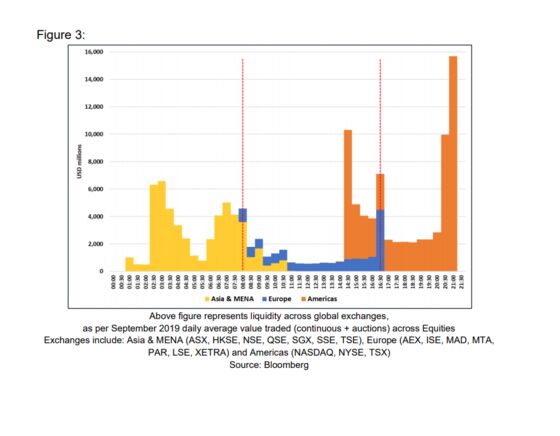 The imbalance between the length of trading hours in Europe and the U.S. is at odds with the respective scale of the regions' markets. The capitalization of the Stoxx Europe 600 is about half that of the S&P 500 and the average turnover in the European benchmark in the last 12 months is about 40% lower than on Wall Street.
Some of the survey responses included proposals to begin trading at 11 a.m. London time, to have a formal lunch break around midday, and to make the European trading day 24 hours long.
According to April Day, head of equities at AFME, one of the bodies which proposed the shorter hours, exchanges across Europe will need to coordinate between themselves if the hours are changed. But she admits that this could take time and is "uncharted waters."
The London Stock Exchange just concluded a seven-week consultation among participants on a potential adjustment to market hours, and says it "strongly supports improving diversity and workplace culture." A spokesman for Deutsche Boerse said it'll discuss the main implications of a change to trading times with its stakeholders and announce its position in due course. Euronext NV said it plans to start a consultation next month among its members, buy-side and retail associations as well as clearing and settlement operators.
The proposal for reduced hours could meet resistance from continental European bourses. Pushing back the start of the trading day across the entire region might mean the German stock market not opening until 10 a.m. local time and Finland until 11 a.m, for example.
"We believe that shortening trading hours isn't good for the market as it reduces the possibilities for investors and active traders to implement their trading decisions," said Peter Vorrath, head of business and corporate development for SSW-Trading GmbH, a proprietary trading firm in Hamburg, Germany.
Vorrath is also concerned about the impact shorter hours will have on retail investors as the move might increase the costs for day traders who like to operate outside normal business hours when spreads are wider, and push them toward over-the-counter and retail exchanges.
In its response to LSE's consultation, Norway's Wealth Fund said on Monday that it supports shorter trading hours and favors the option of 9 a.m. to 4 p.m. London time because that would shift the day closer to the opening of North American markets when peak trading interest occurs. According to Norges Bank Investment Management, this would also allow after-hours market placements to occur earlier.
"Just because these hours were deemed appropriate 20 years ago, it doesn't mean that it's suitable for today's society or the technologically-minded workforce that we have," Liontrust's McLoughlin said. "The financial industry needs to realize that they're making a mistake here and they need to fix it."