Trade Virus Like the Trade War, and Eye Central Banks: Emons
(Bloomberg) -- Terms of Trade is a daily newsletter that untangles a world threatened by trade wars. Sign up here. 
The best way to think about the threat from the coronavirus from an investment perspective is to view it like the trade war -- a temporary hit to equities that in time should be accommodated by central banks, in the view of market veteran Ben Emons.
"What the markets are trying to say is the virus outbreak is met with protectionist measures by curbing travel, shipment and thereby trade," Emons, a managing director at Medley Global Advisors, wrote in a note Tuesday. "The impact of the virus could then be analyzed along a full scale global trade war," which previous estimates showed could lop off 1.5 percentage points from global gross domestic product, he wrote.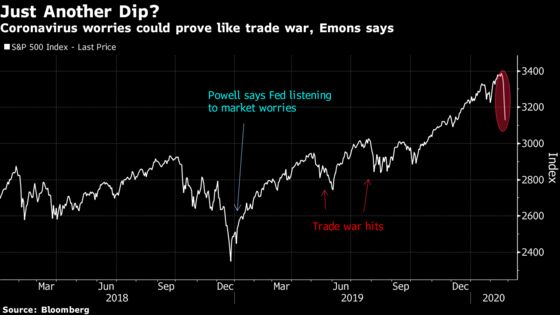 Waves of tension between the U.S. and China periodically hammered stocks from mid-2018 through last year, as investors priced in an increasing tax on trade.
That didn't stop U.S. stocks from hitting record highs, thanks in part to a policy turnaround by the Federal Reserve to easing mode from tightening -- it executed three interest-rate cuts and shifted to expanding its balance sheet. Global shares logged a record by December 2019.
The Fed, European Central Bank and others have yet to signal any imminent plans to add stimulus since concerns about the economic impact of the virus erupted last month. Fed Vice Chairman Richard Clarida said it's "still too soon" to say whether the epidemic will cause a material change in the U.S. outlook.
Still, global central banks will move once the anti-virus measures prove to be affecting economic data, Emons said.
Futures trading shows investors anticipate at least two quarter-point cuts by the Fed this year.
Besides central banks, what could also help a turnaround in markets is warmer weather, Emons noted. Health experts say that could inhibit the virus.