Trade Spat Returns to Haunt European Stocks' Nascent Rebound
(Bloomberg) -- The stars appeared to be aligned for European shares to take off: earnings are solid, economic data are doing better and the euro is flat. Then trade had to come and spoil the party.
The Stoxx 600 declined on Wednesday, dragged down by autos and miners, as trade tensions once again escalated between the world's two largest economies. The U.S. is reportedly considering more than doubling its planned tariffs on $200 billion of Chinese imports, prompting China to retort that "blackmailing" will never work. This came just hours after European stocks were cheered by a report that the U.S. and China were planning to restart talks to resolve a trade dispute that has whipsawed global markets.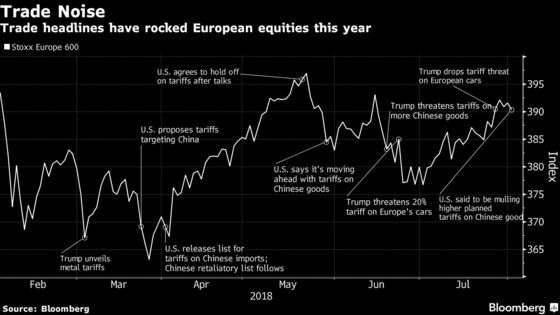 Wednesday's move in European markets -- coming after the benchmark posted its best week since March last week -- is a reminder that for all that is going well, they remain vulnerable to any trade headlines, which can change daily. Brace yourself for more surprises.