Trade of Extremes Shows Stock Market's Epic Conundrum
(Bloomberg) -- If you want to gauge the extent of the market's current confusion, look no further than the clash over safe and volatile stocks.
Whipsawed by a trade feud and a worsening global outlook, investors are keen to reduce risk but reluctant to give up on equities entirely, in case central bank stimulus encourages further gains. Instead, they are boosting defensive stocks seen as bond proxies, at the expense of those perceived to be more tied to economic cycles.
That's widened the valuation gap between the two to levels Societe Generale SA analysts are calling "extreme," while JPMorgan Chase & Co. strategists recommend taking profit on the safer shares.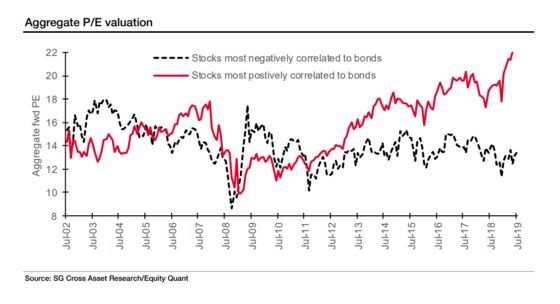 "People are making a mistake, people are buying bond-like equities thinking it's bonds and it's not the case," said SocGen's global head of quantitative strategy Andrew Lapthorne. "We haven't seen bond yields polarizing equity markets to such an extent."
Investors aren't convinced. The likes of HSBC Private Bank and Aberdeen Standard Investments say the valuation dispersion may be at historical levels but trade war and economic growth concerns aren't going away anytime soon, so it's best to hold on to defensive equities.
"The gap may be wide, but why should it begin to narrow quickly or in the near future?" said Andrew Milligan, head of global strategy at Aberdeen Standard. "There are no signs that a rapid turnaround will be seen. History does suggest that eventually the gap will close -- but sadly the timing could still be some way off."
August turned out to be rough for many investors, bringing an abrupt end to a stellar run in equities as bonds rallied. Sectors that tend to perform well as debt yields decline, such as utilities, health-care and consumer staples, fared better than financials and miners, seen as more sensitive to economic growth and hence more volatile.
"When we say cyclical or defensive, what we mean is high-beta versus low-beta," said Ryan Taliaferro, director of equity strategies at Boston-based Acadian Asset Management. "When you frame it like that, then timing cyclicals and defensives isn't entirely different than just trying to time the market itself, which is a very difficult thing to do."
After having outperformed safer stocks for most of this year, the MSCI U.S.A. Cyclical Sectors Index fell 2.4% in August for only the second monthly decline of 2019, while the MSCI U.S.A. Defensive Sectors Index retreated 0.9%.
But the region that stands out for lagging cyclicals is Europe, where their returns this year are about a third that of defensive shares. Banking stocks, hurt by the extension of low rates across the euro area, and automakers, pummeled by fears of U.S. tariffs, are the biggest victims of the trend.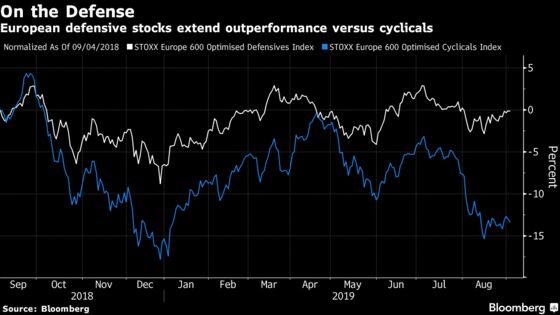 For these sectors to rebound, European economic growth would need to emerge from the doldrums. Aberdeen's Milligan says the "jury is still out" on whether the European Central Bank's easing will boost business activity, and in the meantime, bonds and their equity proxies could see further inflows ahead of the stimulus announcement.
"The market will continue to focus more on the economic and earnings momentum than on valuations," said Willem Sels, chief market strategist at HSBC Private Bank. "Value stocks have not performed well, in part because of the fall in interest rates, but also because the overwhelming driver of risk sentiment is elsewhere -- namely the focus on the outlook of the economic cycle."
Another powerful group of investors that favors defensives is quant funds, according to Bank of America Corp. Indeed, quants at Acadian are overweight safer stocks and underweight cyclicals, albeit with a focus on less expensive shares within those sectors, according to Taliaferro.
SocGen's Lapthorne says the heavy positioning in defensives makes investors vulnerable to a sudden bond market sell-off and fund managers need to devote just 10% of their portfolio to cheaper cyclical stocks or options on them to get protection.
Still, more volatile shares are unlikely to win big in the current environment of growth jitters, says Kempen Capital Management's Roelof Salomons. And while global cyclical stocks rallied on Wednesday as political tensions appeared to ease in Hon Kong and the U.K., trade tensions between the U.S. and China are far from being resolved.
The Stoxx Europe 600 Optimised Cyclicals Index is down 0.9% so far in September, compared with a gain of 0.2% for the Stoxx Europe 600 Optimised Defensives Index.
"The valuation difference between cyclicals and defensive is extreme. It is a bit of an elastic band. Bound to reverse, but always possibly to stretch a bit more," said Salomons, chief strategist at Kempen. "As long as rates stay low and investors fear a recession, equity investors are likely to continue to hide there."