Energy Stocks Send Canada's TSX on a Run Past 20,000 Milestone
(Bloomberg) -- Canada's main stock index rose above 20,000 for the first time Tuesday, aided by a gain in energy shares, a rotation to value stocks and global economies emerging from the depths of Covid-19 lockdowns.
The S&P/TSX Composite Index jumped as much as 1.5% before paring those gains to close up 1.2% at 19,976.01. It was the biggest gain in two months. Energy shares led the way, with Inter Pipeline Ltd. gaining almost 8% after Pembina Pipeline Corp. agreed to acquire the Calgary-based pipeline company.
The index has risen 14.6% this year, with banks, oil producers and health-care companies at the helm. Canada's technology sector, led by e-commerce star Shopify Inc., shone through the early months of Covid-19 lockdowns, but have lagged behind in 2021 as investors have turned away from growth stocks to capitalize on economic reopenings.
Massive government and central bank stimulus has helped propel stocks higher, some Canadian money managers said.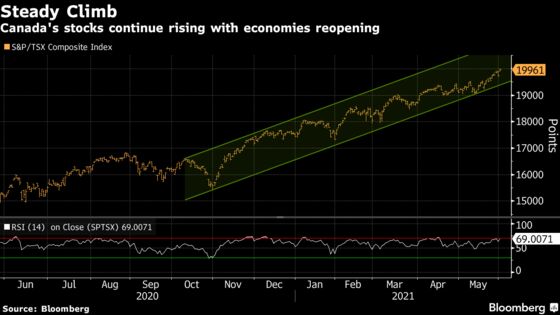 Ryan Bushell of Newhaven Asset Management said investors shouldn't doubt the "power of the coordinated action of global central banks and governments."
"I wouldn't be surprised that stocks continue to go up here," Jean-François Tardif, president of Timelo Investment Management, said on BNN Bloomberg.
Canadian earnings have also been strong, prompting Bank of Montreal's chief investment strategist to affirm a year-end price target of 20,500 for the TSX. Brian Belski says BMO's year-end earnings-per-share target of C$1,180 could prove low if results continue on their upward trajectory this year.
"First-quarter earnings season has been another blow-out quarter, with S&P/TSX companies beating estimates by almost 8% on average, marking the fourth consecutive quarter of record-setting beats," Belski said in a note to clients.
Technicals are also pointing to further gains for the TSX, according to Canaccord Genuity Corp. "A new short-term (2-4 week) rally phase is underway as the TSX Composite just broke out to new highs out of a multiweek-long consolidation," quantitative and technical analyst Javed Mirza told clients in a note. "First resistance and next upside technical target near 20,500," Mirza added.