Japan's Topix Surges to Highest in 30 Years as SoftBank Gains
(Bloomberg) -- Japanese stocks gained, with the Topix reaching its highest level in 30 years, amid rising hopes for U.S. stimulus and reports that the government may lift its state of emergency early for some areas.
Telecommunications providers and electronics makers were the biggest boosts to the benchmark gauge, with all industry groups advancing. SoftBank Group Corp. was the largest contributor to the gain in the Topix, which rose 1.8% to 1,923.95, its highest close since June 1991.
The Topix is up more than 6% this year, outperforming U.S. and global gauges, helped in part by the focus on cyclical stocks amid hopes for a reopening of the economy. Still, while benchmarks from the U.S. to South Korea have hit records in recent months, the Topix remains more than 30% below the high-water mark set in December 1989.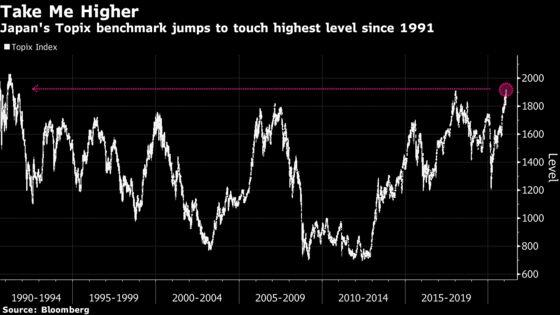 U.S. stocks rallied Friday, with weaker-than-expected jobs data bolstering the case for the $1.9 trillion coronavirus stimulus bill. In Japan, the government is considering lifting its state of emergency declaration in some areas early depending on the infection situation ahead of the expiry date of March 7, local newspaper Asahi Shimbun reported without attribution.
The Nikkei 225 Stock Average climbed more than 2% Monday to top the 29,000 mark for the first time since 1990. Gains in the blue-chip gauge were also driven by SoftBank Group, which climbed ahead of its results statement at the close and after announcing plans to raise more funds through two new special purpose acquisition companies.
Japanese stocks may now trade in a range, with the impact of "positive news about the stimulus, earnings and possible early lifting of the state of emergency quickly expiring," said Naoki Fujiwara, chief fund manager at Shinkin Asset Management Co.
With more than half of the results out in the latest reporting season, more than 68% of companies in the Topix have beaten expectations, according to data compiled by Bloomberg. The Topix forward price-to-earnings ratio is now at 18 times, significantly higher than its five-year average of about 14 times.
Results from the current earnings cycle are pointing toward a major recovery next fiscal year, according to Frank Benzimra, Societe Generale's head of Asia equity strategy. "Our thesis in Japan is that the market has been quite under-owned for some time, because there was not so much interest on earnings," Benzimra told Bloomberg Television.