Nikkei 225 Joins Topix in Correction Amid Global Rout Over Virus
(Bloomberg) -- Japan's Nikkei 225 Stock Average entered a correction, joining the broader Topix index amid the continued global equity sell-off triggered by the coronavirus outbreak.
The blue-chip gauge fell 3.7% on Friday, losing more than 12% from a high marked on Jan. 20. The benchmark Topix, which went into correction Thursday, is down almost 14% from a December high. Both measures marked their worst weekly decline since February 2016.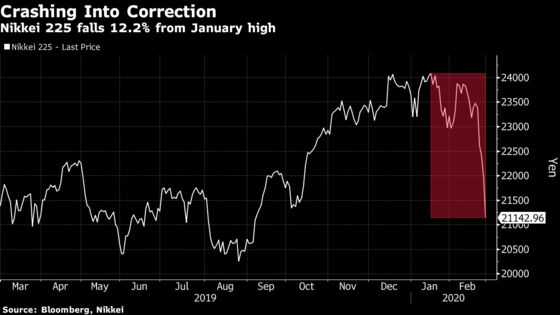 The S&P 500 also fell into correction on Thursday, barely over a week after setting a record high, the quickest-ever turnaround of the sort, according to data from Deutsche Bank Global Research.
The coronavirus has the potential to become a pandemic and is at a "decisive" stage, the head of the World Health Organization told reporters in Geneva. The number of coronavirus cases in South Korea crossed 2,000. Japan is closing schools to limit the spread of the outbreak. New cases continue to appear outside of China, with New Zealand reporting its first infection.
"I don't know how much more the market will have to fall until things calm down, that's how it feels," said Soichiro Tsutsumi, a trader with eWarrant Japan Securities. "If something can put a stop to this, maybe news of a vaccine or medication that works."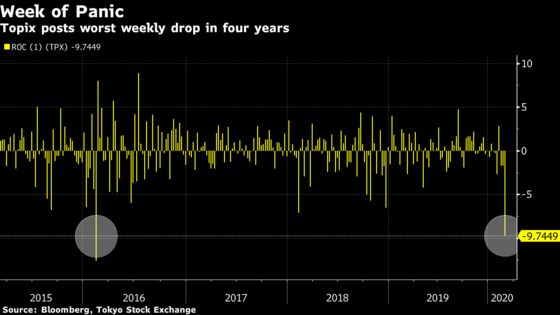 An emergency margin call was triggered Friday afternoon for Nikkei 225 and Topix futures, according to the Japan Securities Clearing Corp. Total value of transactions on the first section, the main market of the Tokyo Stock Exchange, increased to 4.1 trillion yen ($37.9 billion), its highest since May 2018.
The 14-day relative strength index on the Topix slumped to around 17, its lowest level since 2015. The 25-day Toraku index, which compares the number of advancing stocks to those declining, slid Friday to a 12-year low of about 53. Volatility on the Nikkei 225 spiked to nearly 43, its highest since 2016.
"These are levels we haven't seen in a while," Tsutsumi said. But he noted the technical indicators, which currently signal the market is oversold, aren't serving as enough reason to buy stocks on dips yet.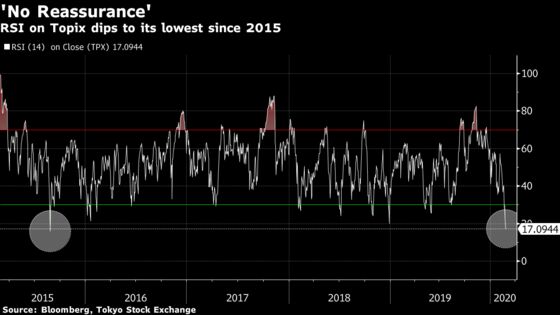 "You can feel the desperation from the Japanese government in dealing with the virus, worsening investor sentiment and the selling of equities inducing more selling," said Takahiro Kusakari, chief investment officer of Sawakami Asset Management Inc. "It'll be hard to anticipate a recovery in either U.S. or Japanese equities for a while."
Topix -3.7% to 1,510.87 at the close in Tokyo
Nikkei 225 -3.7% to 21,142.96
Yen +0.7% to 108.87 per dollar
All Topix industry groups slide; electronics biggest drag: Sony -3.9%, Keyence -3.6%, Hitachi -5.8%