Top Stock-Fund Manager Bets Emerging-Markets Surge Will Continue
(Bloomberg) -- John Malloy is enjoying this year's revival in emerging-market stocks more than most: his fund is beating pretty much all the competition and returning twice that of the benchmark index.
With a dovish tilt from leading central banks and a resolution on U.S.-China trade negotiations on the horizon, the 26-year veteran of investing in developing economies says improving earnings-growth prospects can extend the $1.8 trillion rally.
"Right now you can pretty much just close your eyes and buy it or leg into it over the next month," Malloy, who helps manage about $7 billion in equities as co-head of emerging and frontier markets at RWC Partners Ltd., said in Sydney. "We are out of the woods."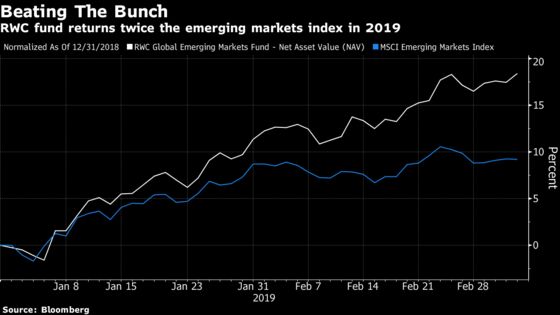 The best start to a year since 2012 for developing-nation equities underscores increased faith in the world's two-largest economies to reach a firm deal on trade. That's vital for Malloy, who began investing in emerging markets back in 1993 at Baring Asset Management, in addition to easier policy at the Federal Reserve and stimulus in China that continues to improve the growth outlook.
"The Fed's on hold until probably Europe gets fixed, which means maybe two years and that's very positive," said Malloy, who is based in Miami. "I know that central bank policies are going to be easing for a long period of time. That's important to us in terms of the backdrop for EM."
Malloy's optimism is tempered by large money managers who've highlighted risks of a pullback as the pace of this year's surge in prices belies caution. Still, there's been a reduction in bearish wagers on the biggest exchange-traded fund tracking emerging-market stocks, where inflows show no signs of waning.
"I do worry that perhaps we've seen the best of the rally and potentially there are issues that are coming up, which may see that pullback," Devan Kaloo, London-based global head of equities at Aberdeen Standard Investments, told Bloomberg Television. "We have yet to see the details of any sort of U.S.-China trade deal. Presumably if the U.S. wins on something, somebody needs to lose on something and that honestly is not being factored in by markets at the moment."
The $1.3 billion RWC Global Emerging Markets Fund has beaten 98 percent of its peers this year with a 17.5 percent advance and topped 92 percent of peers over three years, according to data compiled by Bloomberg. China makes up almost 30 percent of RWC's emerging-market strategy, almost three times the second-biggest allocation, South Korea.
Performance suffered over the past year as the fund stayed invested through weakness in the asset class that stemmed from a misreading of how protracted trade negotiations were becoming, Malloy said. He stayed the course, wagering on a resolution, in part informed by information from RiceHadleyGates LLC, U.S. Secretary of State Condoleezza Rice's advisory firm that provides insight into a range of risks in emerging markets.
There remains potential upside from a trade deal and President Donald Trump does not want to risk a recession going into next year's U.S. election, said Malloy.
"The reality is that it's going to be more positive for growth than negative for growth," he said.