Top Philippine Fund Loses Appetite for Manila Stocks After Rout
(Bloomberg) -- The Philippines' largest pension fund is holding off on buying local shares after the selloff in emerging-market assets pushed the nation's equities into a bear market last month.
The Government Service Insurance System "has no appetite" to invest, President Jesus Clint Aranas said in a forum in Manila. "And I think that is the common consensus among equity investors."
A foreign investor-led selloff has wiped more than $53 billion from the nation's equities as a weakening peso and quickening inflation combined with concerns about the simmering trade war between the U.S. and China. Aranas said GSIS's portfolio was somewhat protected by its investments overseas and that the state-run fund is holding on to its local holdings.
"We are performing better than the market," he said. "While everyone is losing, we have cushioned a lot of losses."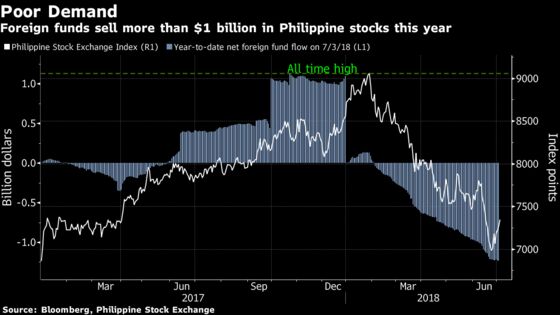 GSIS may plow back a portion of an $800 million budget for overseas investment should the outlook for domestic equities improve.
For now, "it doesn't make sense for me to plow it in a losing market," Aranas said. "I can't invest in something that is losing unless there are indicators based on a study that things will improve."