Top Performing Philippine Stocks Face Headwinds, Chairman Says
(Bloomberg) -- The founder of Bloomberry Resorts Corp. and International Container Terminal Services Inc., the nation's best performing stocks this year, said key parts of his businesses are facing headwinds.
Bloomberry will post "low double-digit" growth rates in terms of visitors and volume, Philippine billionaire Enrique Razon said in a Bloomberg Television interview on the sidelines of the Milken Institute global conference in Beverly Hills, California. In 2018, profit at the nation's largest casino operator rose 18 percent to a record 7.19 billion pesos ($139 million) as visitors at its Solaire casino in Manila increased 14 percent to 6.65 million.
The same is true for his port business. Razon said volume handled by International Container, which operates ports in two dozen countries, posted a low single-digit growth in the first four months of 2019.
"It seems that there's a slowdown across the board," Razon said in the interview, citing volume in its ports in the Middle East, Latin America and Asia. "We have pockets of risks wherever you are, and we are in 24 countries. But the overall risk is the global economy."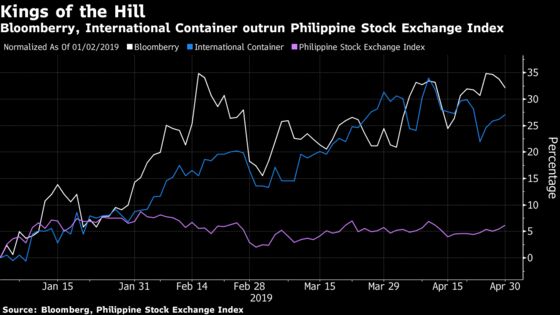 Investment opportunities that offer the most potential are ports and infrastructure, specifically power and water, Razon said, citing his latest ventures in the Philippines and Iraq.
Shares of Bloomberry declined 0.5 percent to its lowest in a week on Thursday, while International Container rose 4.3 percent. Both stocks have gained more than 30 percent each this year, making them the biggest gainers on the Philippine Stock Exchange Index this year.
While most of its VIP clients are from China, Bloomberry expects to see faster growth of between 20 percent and 30 percent in mass market visitors from the mainland. Philippine consumers are doing "quite well, based on the mass gaming market, and that will drive the business going forward," he said.
Bloomberry will break ground on its second Philippine casino as early as July, with the facility located 20 kilometers north of Solaire focusing on mass gaming.
International Container, also known as ICTSI, posted a 6 percent growth in volume in 2018 that lifted its profit to a record $221.5 million. Its ports face mixed fortunes this year, according to Razon.
Ports in Mexico and Africa are showing growth, while the Philippines and Asia are expanding at low single digits and most of Latin America have slowed down. Nevertheless, new ports opened by ICTSI are "providing stronger growth than what global trade reflects," Razon said.
ICTSI will absorb "little damage" should Sudan cancel its contract to operate the nation's port, and intends to recover the company's upfront payment.