Top Global Fund Says Bye Bye Samsung, Hello Taiwan's TSMC
(Bloomberg) -- A fund manager at Columbia Threadneedle Investments has sold all of his stake in Samsung Electronics Co. But he's still betting on the industry, just via its Taiwanese rival.
Dave Dudding, who helps oversee $485 billion globally, said he's still holding shares of Taiwan Semiconductor Manufacturing Co. because its chip business is less volatile than Samsung's. His fund has outperformed 87 percent of its peers in the past three years.
"Samsung is a good franchise, but it's a bit volatile," said Dudding, who's based in London. His fund's strategy is to pick only about 40 stocks globally, selecting companies that have sustainable, high returns, low debt levels, stable earnings and business models with a competitive advantage. "For now, we slightly prefer TSMC and its steadier business."
While Dudding declined to comment on the timing of his exit from Samsung, data compiled by Bloomberg show his fund still owned it as of the end of July, along with TSMC. Now it's not holding any Korean shares, though Dudding didn't rule out buying Samsung again given valuations.
Samsung has tumbled 17 percent this year through Thursday as prices of its two core products -- DRAM and NAND chips -- have dropped on concerns over an end to the so-called supercycle in the memory-chip industry. TSMC, which doesn't make DRAM and NAND chips, has lost just 4.6 percent.
TSMC's revenue comes from foundry services, which produce various kinds of made-to-order chips for multiple clients -- it's the exclusive manufacturer of Apple Inc. iPhone processors. The company holds half of the industry's market share, versus about 5 percent for Samsung, according to IC Insights.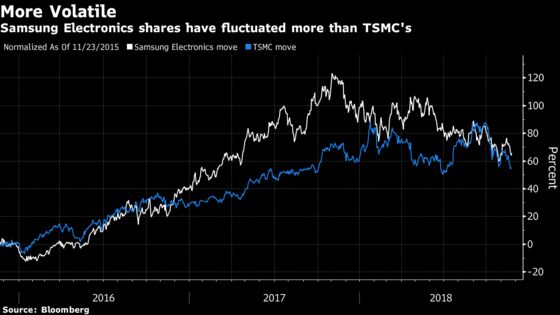 "Shares of Samsung have fluctuated amid the controversies over whether the DRAM chip price reached its peak or not, and TSMC has been relatively free from the debates," said Yoon Joon-won, a fund adviser at HDC Asset Management in Seoul. "In the foundry business, it is true that TSMC has held more clients than Samsung."
In a note this week, Citigroup Inc. said TSMC shipments will increase in the first three months of 2019, boosting revenue. Wafer demand from Android processors and baseband-station chipsets could more than offset weakness from Apple, according to the brokerage.
Here are some of Dudding's other stock bets:
He sold all of his shares in Tencent Holdings Ltd. when the stock was at around HK$400. It hasn't traded at that price since June and closed at HK$295 Thursday.
For Chinese equities, he is looking for opportunities in the consumer sector, such as drinks companies, rather than big banks or infrastructure-related stocks.
He favors banks in India and Indonesia as they will benefit from increasing populations and wealth in those countries.
Among U.S. shares, he holds a "big position" in Google parent Alphabet Inc.