Top FX Strategist Sees Chinese Yuan Stabilizing by Year-End
(Bloomberg) -- Things are looking up for China's currency.
The yuan just had its biggest two-day gain in a decade, powered by optimism that U.S.-China trade sessions will ease. It's a harbinger of steadier days to come, according to Scott Petruska, senior currency strategist at Silicon Valley Bank, the most consistently accurate major-currency forecaster of 2018 so far.
"I'm bullish on the Chinese economy, despite all the things that may happen in the next three to four months," Petruska said in an interview. "I didn't see the intensity in markets that tells me there is going to be a push to move the yuan lower."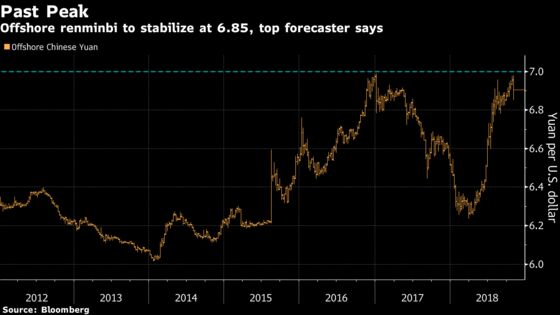 Petruska sees the yuan at about 6.85 to the U.S. dollar by year's end, just a nudge away from the 6.887 level it traded at on Friday and well stronger than the key psychological level of 7 to the greenback that some are forecasting. Risk reversals don't show traders buying for protection on the upside, he said.
In addition, he expects China to "take the higher ground" in trade disputes with the U.S. to keep its currency stable. U.S. President Donald Trump said Friday said he thinks the U.S. and China will reach a deal to end the trade dispute and that it would be good for both sides.