Top Fund Buys Tencent and China Stocks, Sells U.S. Tech Giants
(Bloomberg) -- A top-performing global equity fund is picking up battered Tencent Holdings Ltd. shares and doubling down on China as it pares its exposure to some of Wall Street's biggest tech stocks.
Tencent's messaging service WeChat is too powerful to ignore, and its shares have fallen far enough, said Peter Chang, vice president at Nomura Asset Management Taiwan Ltd. The $260-million Nomura Global Equity Fund, which has outperformed 98 percent of its peers with an annualized year-to-date return of 4.3 percent, has more than doubled its exposure to China since September on bets government stimulus will boost shares. The fund has reduced some U.S. tech stocks on concern valuations were getting too high.
"With the two-pronged approach in monetary and fiscal policies, corporate earnings in China should rebound in the second half next year," Chang said in an interview last week in Taipei. "Tencent shares aren't far from the bottom. No one can do without Tencent in life in China."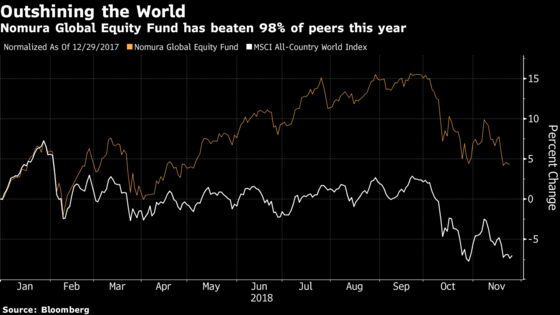 Chinese shares now account for about 20 percent of the fund's holdings, while the proportion of U.S. equities has been reduced to below 50 percent from around 60 percent, according to Chang. Money could flow toward emerging markets from the U.S. amid expectations the Federal Reserve will halt raising interest rates next year, he said. American tech giants like Microsoft Corp. and Amazon.com Inc. were still among the fund's top holdings as of October, according to data compiled by Bloomberg.
While the fund has a strong track record over a longer period, its performance hasn't been as flattering over the past month, losing an annualized 3 percent and underperforming its peers. Chang didn't name other Chinese companies the fund has recently added.
After slumping as much as much as 47 percent in October from its all-time high in January, Tencent has regained some stability in recent weeks. While investors are still waiting for clarity on new game approvals, its third-quarter report provided some relief. Tencent commands a powerful asset in WeChat, used by more than a billion people to shop, pay for services and hail rides. The stock climbed 2 percent on Tuesday, taking its rebound from October low to 20 percent.
Chang expects Chinese companies to post a return of 10 to 20 percent next year. Valuations are relatively cheap and technology, consumption and health-care stocks look particularly attractive, he said, referring to both onshore- and offshore-traded shares.
The Shanghai Composite Index has tumbled 22 percent this year, among the world's worst performers, while the MSCI China Index has dropped about 17 percent. That contrasts with the S&P 500 Index, which was little changed through Monday after coming off new highs made two months ago. The U.S. gauge is trading at a 53 percent premium over Shanghai shares, when measured by price-earnings multiples, according to data compiled by Bloomberg.