Brace for More Rupiah Pain, Top Forecaster Says
(Bloomberg) -- Brace for more pain to come for Indonesia's rupiah, said the currency's most accurate forecaster.
Southeast Asia's biggest economy may see its currency fall to 15,500 per dollar by year end as it becomes a casualty of an escalating U.S.-China trade conflict and soaring oil prices, said analysts at Julius Baer Group Ltd., which had the most accurate rupiah forecast in Bloomberg's third-quarter rankings. That's almost 2 percent weaker than the 15,200 close on Wednesday.
"Despite proactive action by its central bank, the rupiah continues to be under pressure due to the confluence of tightened liquidity conditions from rising U.S. interest rates and the intensifying trade war," said Magdalene Teo, Singapore-based head of fixed income research for Asia at the Swiss bank. As an oil importer, Indonesia will also feel the heat from rising crude prices that further strain the nation's current account deficit and currency, she said.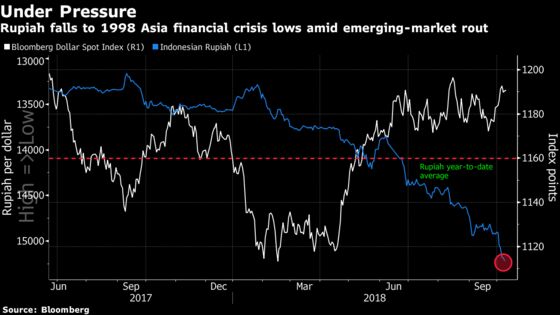 The rupiah has become one of Asia's biggest victims of an emerging market rout that has rocked countries from Turkey to Argentina. The currency has slumped 11 percent against the dollar this year to its weakest since the 1998 Asian financial crisis.
Echoing the slide is a sell-off in Indonesian bonds. Yields on 10-year local currency debt surged to as high as 8.62 percent in September from 6.3 percent at the start of the year as jittery investors ditched riskier assets. The bond selloff may still have room to run, according to Teo.
"If the rupiah goes toward 15,500 as our economist has forecast in three months, a 9 percent level is a possibility," she said of yields.
Indonesia's central bank and government have been tenacious in their attempts to combat the rout, throwing everything from five interest-rate hikes since May to curbs on imports and active intervention in the nation's bond and currency markets.
These efforts have come at a cost -- foreign reserves fell to a 22-month low of $114.8 billion in September as Bank Indonesia drained funds to pay down external debt and stabilize the rupiah.
Read More: Rupiah Onshore NDFs and What They Mean for Markets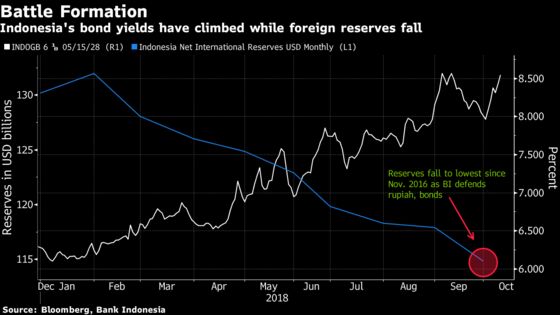 Despite the central bank's efforts, the rupiah's fate may still be swayed by the actions of the U.S. Federal Reserve, which remains committed to raising borrowing costs.
"This is why we expect the rupiah to trend down further, with periods of relative calm and stability due to returning risk appetite alternating with bouts of weakness following strong data or hawkish U.S. talk," said Susan Joho, Zurich-based economist at the bank.
"Recent stabilization measures may help to slow this development, but won't stop it."