Top Court Tightens Rules on India's Bad-Debt Resolution Timeline
(Bloomberg) -- India's top court has set new norms for the country's bankruptcy law in an attempt to speed up the resolution of billions of dollars worth of soured loans weighing down banks.
The Supreme Court on Thursday set mandatory timelines for the various stages of the insolvency resolution process, which the law says must be concluded in 270 days, and imposed restrictions on when and why the process can be appealed or stalled.
"This would not only support the development of credit markets and encourage entrepreneurship, but would also improve ease of doing business and facilitate more investment, leading to higher economic growth and development," the court said.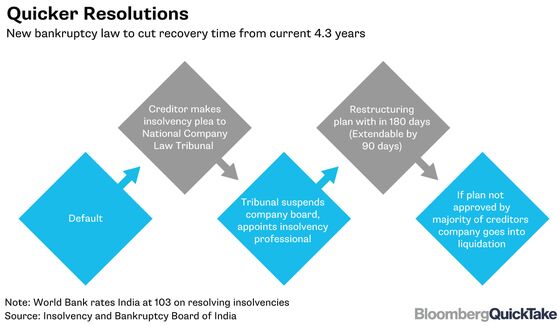 Two years after parliament passed the Insolvency and Bankruptcy Code, the resolution process has been slowed as courts are inundated with appeals from founders, administrators, lenders and bidders. In a country infamous for judicial delays, the number of cases being referred to the company courts threaten a crucial reform of the Narendra Modi government. The law helped India jump 30 points in World Bank's ease of doing business rankings in 2017.
The top court on Thursday listed the number of days to be taken on things like admission of a case, appointment of a valuer for assets and selection of the best resolution plan.
It also ruled that only a panel of lenders can decide on the eligibility of bids for stressed assets and not the court-appointed insolvency administrator, as was previous practice. No cases can be filed until lenders have reached a decision on the bids, it ruled. This clarifies two of the biggest sticking points in the insolvency proceedings of marquee defaulters such as Essar Steel India Ltd., Binani Cements Ltd. and Bhushan Power & Steel Ltd.
The verdict follows a legal battle between the world's largest steelmaker ArcelorMittal and Numetal, a consortium led by Russia's VTB Capital, to take control of Essar Steel, the largest steel mill on sale under the new law.