Top Bond Fund Manager Braces for EM Sovereign Defaults in 2020
(Bloomberg) -- A Vanguard Group Inc. fund manager who outperformed 99% of his peers during the past three years is bracing for emerging-market defaults in 2020.
Caution is key in the new year as governments in Argentina and Lebanon risk debt restructurings or outright defaults to regain financial and economic control, said Dan Shaykevich, co-head of emerging-market and sovereign debt at Vanguard in Malvern, Pennsylvania. Some countries in sub-Saharan Africa are also at risk, he said.
"We think that 2020 will be much more about avoiding the losers," he said in an interview. "You are going to have a year where there will likely be defaults in emerging markets."
The Vanguard Emerging Markets Bond Fund, which Shaykevich helps manage, has about $483 million in assets and returned 33% since the end of 2016. Total returns ticked up to 17.9% in 2019, compared with 15% for the J.P. Morgan EMBI Global Diversified Composite gauge and 13.3% for the Bloomberg Barclays developing sovereign benchmark.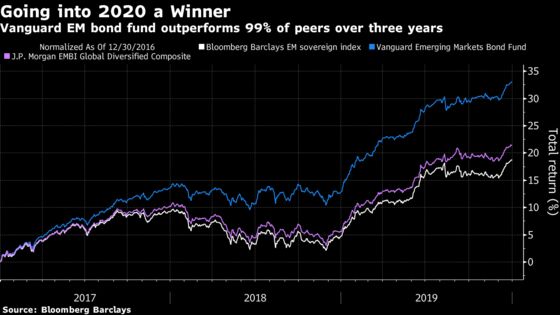 Despite ups and downs in the U.S.-China trade war and violent protests across Latin America, the Middle East and Hong Kong, developing-nation sovereign dollar debt just wrapped up its best year since JPMorgan's gauge started in 1993. It's unlikely 2020 will offer the same caliber of returns, Shaykevich said.
Russia and Brazil do offer opportunities, as do Guatemala, Honduras and Paraguay, he said. Ukraine and select African nations such as the Ivory Coast and Senegal also have potential, according to Shaykevich, who moved to Vanguard from BlackRock Inc. almost seven years ago.