Top Banks' Share of Company-Bond Sales in Europe at All-Time Low
(Bloomberg) -- The top 10 arrangers for European corporate debt deals typically account for at least 50% of the market. This year is different.
Their share of sales has fallen to 45% so far in 2021, the lowest ever on an annual basis, and about 10 percentage points below the previous decade's average, according to Bloomberg league table data. It's because there are more banks fighting for fewer deals, according to Tim Skeet, U.K. regional chair for International Capital Market Association.
"The dynamics of the market have changed," Skeet said. "Traditionally it would've been easier to go to the big banks to get your deal done and minimize execution risk, but that risk is now a lot lower" thanks to the help of the European Central Bank and other technical market changes, he said.
And the flow of deals slowed this year, with corporate bond sales about 45% lower than 2020's tally, when companies rushed to the market to bolster their finances against widespread lockdowns. They're still well capitalized, with more money parked in banks than ever before.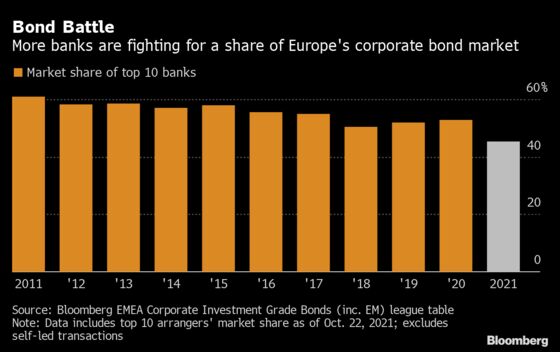 Among the arrangers rising up the table is SMBC Nikko Securities Inc, which has ranked inside the top 20 since 2019. The Japanese bank, which hired veteran syndicate manager Markus Steilen from Commerzbank AG earlier this year to boost its European business, has helped manage sales for companies including BP Capital Markets BV and Air Liquide Finance SA this year. A bank spokesman wasn't immediately available for comment.
Deutsche Bank AG has also ascended the rankings in 2021. After a number of fresh hires at the end of last year in areas such as northern European corporate debt capital markets, it's back in the top three, up from seventh in 2019 and 2020. It's also beefed up hiring across credit trading and sales businesses in recent years.
"We had a very clear strategy to grow our market share, to cover more clients and execute more business," said Mark Lewellen, the bank's head of debt capital markets EMEA origination. Just lending money isn't going to be enough moving forward, added Ade Ademakinwa, the head of DCM EMEA syndicate.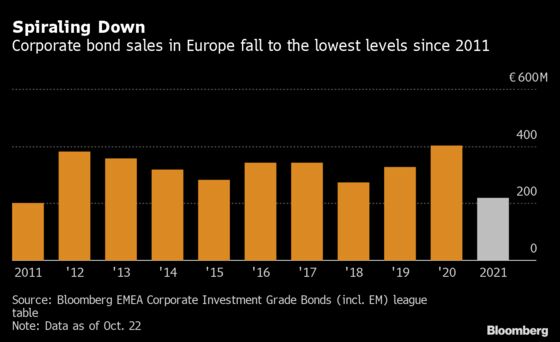 Andrew Menzies, the head of debt capital markets, corporate origination, at Societe Generale CIB, said there's a cannibalization of the market. More banks are winning extra trades for the credit facilities they're providing, rather than their ability to make a difference in advisory and execution.
"It's on us to be that much better," he said. The bank ranked fourth in the league table.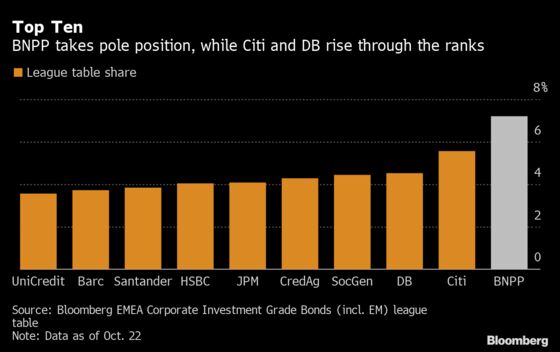 French lender BNP Paribas is the year's most-active arranger, with a 7.22% table share of all the deals in 2021. Although its held the top spot on Bloomberg's EMEA Corporate Investment Grade Bonds table since 2016, its current market share trails the 8.78% slice of the market it won last year. A BNPP spokesperson declined to comment when contacted by Bloomberg News.
"European capital markets are probably the most competitive out there," said William Weaver, London-based head of EMEA DCM at Citigroup Inc., which captured 5.57% of market share. "In a week you might have 50 different banks involved as bookrunners."
The U.S.-based lender is in second place, and has steadily increased market share since 2018, when it ended the year in 12th.
What's in the league table?
Syndicated investment-grade bonds sales from non-financial companies
Priced in Europe, Middle East and Africa markets
Includes borrowers in emerging markets
Bonds denominated in any currency
Data excludes self-led sales
Bonds of Monte Paschi fell the most since March 2020. They include a 750 million-euro 5.375% subordinated bond, maturing in 2028, which dropped more than 16% to its lowest price since May 2020.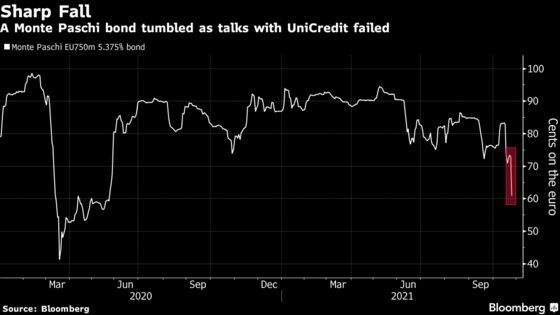 Italian Prime Minister Mario Draghi's government is set to ask the European Union for more time to find a buyer for Banca Monte dei Paschi di Siena SpA, after efforts to sell the troubled Tuscan lender to UniCredit SpA fell apart over the weekend
Meanwhile, six issuers are seeking to price at least 3.6 billion euros of new bonds in Europe's primary market on Monday

Issuance may slowdown as October draws to an end, with only 8.5% of respondents to a Bloomberg News survey expecting sales to exceed 30 billion euros

Issuers across all sectors have sold over 100 billion euros of bonds so far this month
Some holders of an Evergrande bond on which the embattled developer had missed a coupon deadline last month received the interest before the end of a grace period Saturday, according to people familiar with the matter.
At least two holders of the 8.25% dollar note maturing in March 2022 received payment for the coupon in their accounts within the grace period, the people said, asking not to be identified because the matter is private

The price of those and other Evergrande notes rose Monday but are still at deeply distressed levels

Investment-grade and high-yield dollar notes in Asia outside Japan posted their first gain in six weeks. Spreads on high-grade bonds narrowed seven basis points, the most in a year, a Bloomberg index showed. The average price of junk notes rose 1.7 cents on the dollar, their best week since June 2020, according to another Bloomberg index
South Korean brokerage KB Securities Co. was the only borrower to market dollar-denominated bonds, while a handful of firms were lining up calls with credit investors for potential note sales
Jumbo deals from AerCap and Goldman Sachs propelled last week's U.S. investment-grade sales volume to over $50 billion.
Option Care Health, a provider of infusion therapy services, priced $500 million of eight-year junk bonds Friday
GRM Energy Investment filed for Chapter 11 bankruptcy protection in New York, according to a filing, listing estimated liabilities at between $1 billion and $10 billion