Too Much Zinc Has Miners Begging for Smelters as New Mines Open
(Bloomberg) -- A likely rebound in the amount of raw zinc produced this year could have miners "begging smelters" to refine the metal used to galvanize steel, potentially boosting their fees to the highest in two years.
Supplies of the refined metal have been tight following smelter disruptions in China. This year, though, the production of zinc concentrates -- the raw material pulled from rock -- could rise by 6.5 percent, compared with 3.7 percent in 2018, with a number of new mines coming online, analysts at Goldman Sachs Group wrote in a report this month.
Treatment charges were set at $147 a metric ton globally last year, down from $172 a year earlier. Industry executives gathering in Scottsdale, Arizona, Sunday through Feb. 27 will be focusing on just how high the fees can bounce back. The meeting, organized by the International Zinc Association, has traditionally been where a consensus on the fees is determined.
Already, "people are begging smelters to take material off their hands," said Oliver Nugent, a Citigroup Inc. analyst in London. Treatment charges "are ripping," and will probably top the 2017 levels, he said.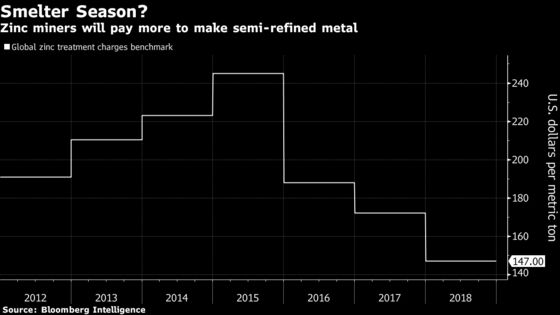 Higher fees, meanwhile, aren't the only concern for industry executives. Goldman Sachs forecasts that the improved outlook for refined zinc supplies could drop prices to $2,200 a ton over the next 12 months. That could hurt companies such as Teck Resources, which last year produced 580,000 tons of zinc in concentrates, according to a data on its website.
The metal traded at $2,724 a ton Friday at the London Metal Exchange, up 10 percent so far this year as stockpiles shrank. Deliverable stockpiles at the London Metal Exchange are near less than a day's worth of demand and rebuilding holdings could require a "full-blown global recession," according to ICBC Standard Bank Plc.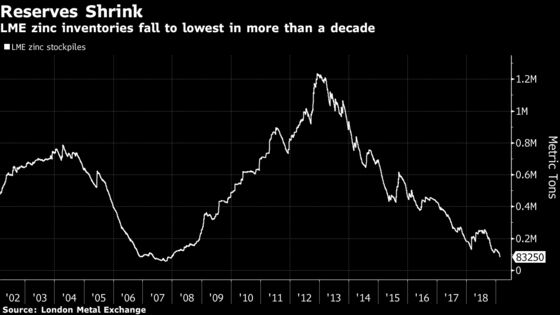 China's zinc demand could rise more than expected this year as infrastructure fixed asset investment growth accelerates to 10 percent from 3.8 percent last year, and the metal will also benefit from a pick-up in construction, according to Bloomberg Intelligence.
Citigroup warns the world's processing capacity, excluding China, will be "pushed to extreme" to process the increased volume while the "bigger burden is on the Chinese smelters to boost output," the bank said in a report this month.
"The mine supply growth in the rest of the world will be there even if China underperforms," Andrew Cosgrove, a Bloomberg Intelligence analyst, said in a telephone interview. "The bigger story is the bottlenecks, and whether smelters in China will ramp up enough. For the most part, charges are up where they should and smelters margins are presumably high enough to incentivize smelters to get going. But time will tell if that really pans out. It's a tall order."