Tokyo Virus Cases Jump to 55 With Workplace Clusters in Focus
(Bloomberg) -- Coronavirus cases spiked in Tokyo on Wednesday, with workplaces coming under the spotlight as the latest source of infection clusters.
The city had 55 new infections, public broadcaster NHK reported. That's the most in a single day since May 5, when the city was still under a state of emergency.
Governor Yuriko Koike had earlier warned that the day's total would be "considerably large" after a number of infections were found at one workplace, calling for firms to implement changes to prevent further spread of the virus. Until Wednesday, Koike had repeatedly commented on nighttime establishments as being the major source of risk.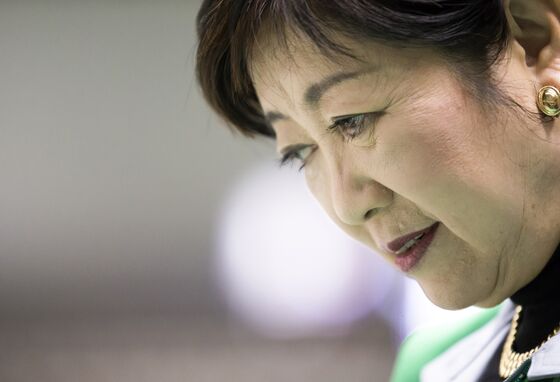 "This incident is showing us that workplaces can also become clusters," Koike said. "We want people to think again about the new normal of offices and workspaces."
Japanese shares, which had fallen after Koike's initial warning, pared some of their losses with the Topix index closing down 0.4%.
Koike's comments highlight the city's concern over the possibility of a second wave of infections, a risk many regions are now facing after initially containing the disease. The Australian state of Victoria has recorded double-digit growth in coronavirus cases for eight consecutive days, while authorities in Beijing appear to have had some success in containing a recent outbreak, reporting seven cases on Tuesday.
Daily cases in Tokyo have moved in a range of around 20 to 40 for much of the past week. A seven-day average of 50 cases a day was one of the conditions that could lead to a reimposition of restrictions on businesses in a series of criteria Koike laid out in May.
That figure now stands at 38. The criteria themselves are vague, however, and also include the number of cases where the path can't be traced, as well as the week-on-week increase, among other indicators.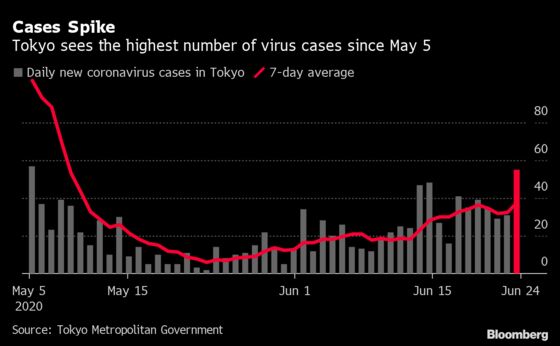 Tokyo had 225 coronavirus patients in hospitals as of Tuesday, though only 20 of these are listed as serious. At the peak in early May, more than 3,000 patients were hospitalized or otherwise isolated in dedicated facilities.
"After the 'Stay Home Weeks,' people are now gradually returning to the office," Koike said in brief remarks Wednesday morning, referring to the period when people were asked to refrain from venturing outside. "But we're not clear how much regular companies are doing" to prevent the spread of the disease. Although restaurants have adapted by placing barriers between tables, workplaces have yet to change and were voicing concerns over workers' productivity while wearing masks, she said.
Traffic at major stations in the capital has been slowly returning to normal since the state of emergency was lifted in late May as workers began to return to the office. The latest data show footfall at Shinjuku station fell around 40% compared to January, while at Tokyo station it was down around 47%.
A brief spike in cases shortly after the lifting of the emergency led Koike to issue an alert to residents urging caution. All restrictions on businesses in the capital were lifted as of June 19 as planned however, and the government has been encouraging residents to resume travel to other regions.
At least 10 of the cases in Tokyo Wednesday were found due to mass testing in Shinjuku, Koike said. The city has been increasing testing in the nighttime entertainment areas in that region after many cases found since the lifting of the state of emergency came from the Kabukicho red light district. Tokyo tested 90 people as part of this testing on Monday, with another 50 tested Tuesday, TV Asahi reported.