To Ashmore, Oil Drop Is Added Blessing Indonesian Stocks Needed
(Bloomberg) -- Central-bank measures to shore up confidence in Indonesia have done their bit in stabilizing the nation's currency and boosting equities. Now a plunge in oil prices will provide the next leg up, according to Ashmore Group Plc.
Just as the Jakarta Composite Index heads for one of the best monthly gains among emerging-market gauges in Asia, foreigners have come back to the market. They've invested more than $660 million net in November, on track for the biggest inflows since April 2017. And with the benchmark gauge still down 10 percent from its high in February, its valuation of about 14 times estimated earnings remains below its three-year average.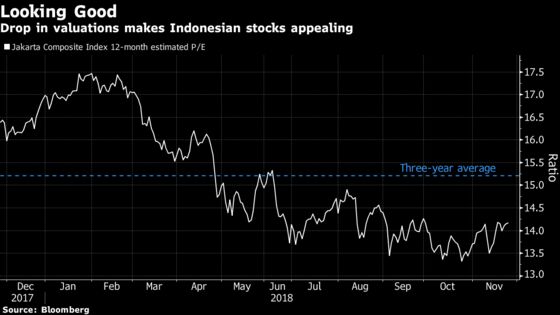 Thanks to six increases in Bank Indonesia's benchmark interest rate since May, the rupiah has rebounded from the doldrums, prompting a halt in foreign outflows. Add to that the slump of more than 30 percent in crude since early October, and things are looking brighter for Indonesia's consumers and its economy, said Arief Wana, a director at PT Ashmore Asset Management Indonesia.
"Foreign investors have started to realize that Indonesia's economy is doing OK," Wana, who helps managed 24 trillion rupiah ($1.7 billion) of assets, said in an interview. "Valuations have come down recently. Indonesian equities on relative basis have become more attractive."
Betting on more gains in Indonesian stocks, his firm has trimmed the cash holdings of the Ashmore Dana Progresif Nusantara fund to below 10 percent from an average of 13 percent since its inception in early 2013. Wana expects shares of property and building-materials companies to be among the key drivers of the equity market after the government's decision to cut the income tax on luxury residential sales.
Moreover, the government has said it would keep the price of regulated fuel and electricity unchanged ahead of a general and presidential election in April. Wana expects it will raise them after, but with economic growth remaining solid, that shouldn't be a problem. The nation's gross domestic product is forecast to expand more than 5 percent annually through 2020.
"A 10 to 15 percent of fuel price increase will not be the end of the world for Indonesia," he said. But "with oil prices coming down to $50 a barrel and the rupiah staying at 14,500 to the dollar, then probably we only need to increase oil prices by 5 percent. Some people might say this is the blessing for the righteous person."