Time to Look Through the Market Selloff's Debris
(Bloomberg) -- Market corrections, whether overdone or overdue, can create opportunities when industries are hit indifferently. So far in May, pretty much all sectors are in the red, even defensive stocks. But why would you dump energy shares when crude prices are resilient and the sector's rich dividends seem relatively safe?
Tensions in the oil market remain high. The U.S. is increasing pressure on Iran, Saudi Arabia said its tankers were sabotaged and the Venezuela situation isn't improving. That has helped keep Brent prices above the $70 mark.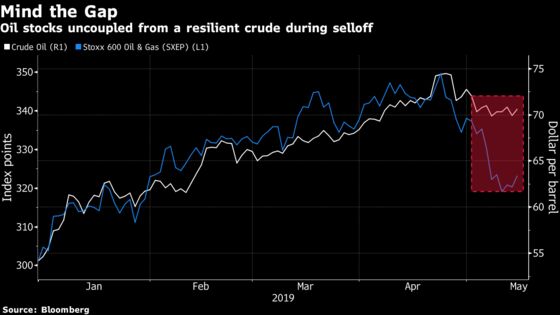 Oil prices should be well supported, according to Credit Suisse analysts. Saudi Arabia's fiscal budget break-even is at $85 Brent and the country controls 67% of spare capacity, while U.S. shale oil needs WTI crude above $55 (or Brent at about $65) to be cash-flow positive.
Historically, energy outperforms 75% of the time in late cycle, and 94% of the time after yield-curve inversion, Credit Suisse strategists write. European oil stocks have significantly lagged oil prices so far this year, and Credit Suisse recommends buying the sector, also praising its defensive features, low leverage, high free-cash-flow yield and attractive valuations. Oh, and oil majors carry pretty high dividend yields, a theme we mentioned on Monday.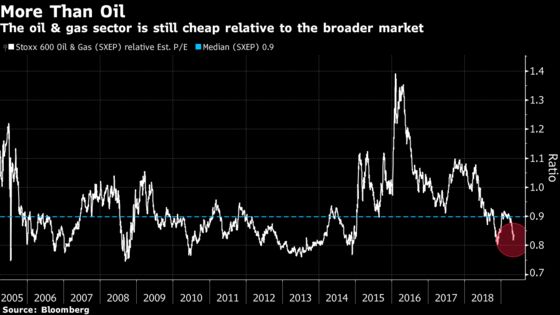 HSBC analysts calculated all five European majors have free cash flow break-even below $55 Brent, excluding buybacks. As for earnings, the first quarter was deemed robust by Morgan Stanley analysts, and they see value emerging. However, with a consensus already demanding, upgrades will be needed before they turn bullish on the sector. In the meantime, they see Total and BP having above-average upside.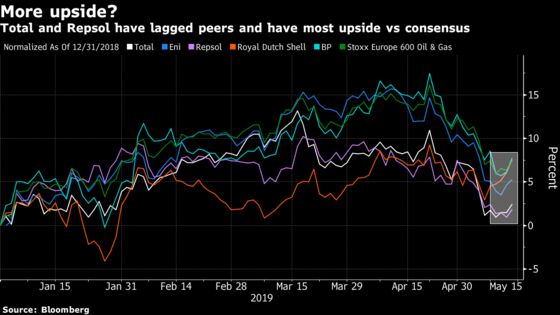 Royal Dutch Shell was upgraded at least three times this month (Deutsche Bank, Morgan Stanley and HSBC). The stock has been an outperformer this year, so if you prefer underdogs, Total and Repsol have lagged peers, and are the darlings of analysts.
Stock
Average Price Target
(local curcy)
Upside
Potential
Repsol
18.2
26%
Total
59.7
26%
Eni
18.2
25%
BP
630.9
18%
Shell
33.1
15%
Source: Bloomberg
In the meantime, Brent oil contracts are down 0.3%, while Euro Stoxx 50 futures are trading up 0.2% ahead of the open.
Watch tiremakers and auto suppliers after Pirelli cut its 2019 sales growth forecast after the European close on Tuesday on "prolonged weakness" in demand from car makers. Watch Michelin, Valeo and Continental.
Watch the pound and U.K. stocks as Prime Minister Theresa May is planning to put a deal back in front of lawmakers. May is therefore heading back into talks with the opposition Labour Party, which have thus far proved unsuccessful. Workers, however, are enjoying wage gains as labor shortages increase their bargaining power. Luxury property owners, however, are still miserable.
Watch reaction to interest rate debate after Federal Reserve's Esther George expressed her opposition to any rate cuts. Overall, the message remains to have patience. At the European Central Bank, Francois Villeroy de Galhau sees no reason for a change in policy.
"We will continue to assess the need for further downside protection, but continue to believe that a shared desire to avoid a global slowdown will push the U.S. and China toward a compromise," wrote UBS Wealth Management Global Chief Investment Officer Mark Haefele. "We therefore recommend that investors remain invested for long-term growth, and avoid the temptation to hide in cash."
ING, UniCredit Said to Tap Advisers to Explore Commerzbank
Walmart Says It's 'Seriously' Mulling an IPO for Asda Unit (1)
Credit Agricole Posts Resilient Trading as Brassac Preps Targets
LafargeHolcim 1Q Sales Beat Estimates; Confirms 2019 Targets
RWE Profits From Rising Power Prices Despite Hambach Disruption
Pirelli Cuts 2019 Rev. Growth Guidance, Confirms Profitability
Fingerprint Cards 1Q Operating Loss Narrows to SEK1.9 Mln
Osram Licht Discontinues Share Buyback Program
Ageas First Quarter Insurance Net 1.2% Above Estimates
Salzgitter Sees FY Pretax High End Of EU125 Mln To EU175 Mln
Scout24 Seen Remaining Attractive Play for PE Firms (1)
1&1 Drillisch First Quarter Revenue Misses Lowest Estimate
Europcar 1Q Revenue Falls 0.6% to EU553m; Confirms Guidance
ACS First Quarter Net Income 4.1% Above Estimates
ABN Amro First-Quarter Profit 4.2% Below Estimates
GN Store Nord Places EU330m 5Y Convertible Bonds
United Internet First-Quarter Sales Miss Lowest Estimate
Eutelsat Cuts Outlook For FY Operating Verticals Revenue
Mediaset 2Q Ad Spending In Line; Nothing New on M&A
Aurubis 2Q Op. Ebit Misses, Sees 2019 ROCE Down 'Significantly'
CGG First Quarter Revenue $271 Mln
Schibsted First-Quarter Ebitda Misses Lowest Estimate
Ferragamo 1Q Rev Rises 4.3%; China Retail Rev. +18%
NOTES FROM THE SELL SIDE:
Pirelli's cut to its 2019 revenue growth guidance is likely to result in some limited cut to consensus, but Jefferies is concerned about the margin outlook for the Italian tiremaker. Keeps hold rating.
Salvatore Ferragamo 1Q sales performance shows clear positive signal in a potential turnaround story with retail like-for-like sales back in positive territory, according to RBC. Performance in China and in shoes division also a positive, according to several analysts.
TECHNICAL OUTLOOK for Stoxx 600 index:
Resistance at 382.7 (50-DMA); 385.7 (76.4% Fibo)
Support at 374.5 (61.8% Fibo); 369.3 (200-DMA)
RSI: 37.2
TECHNICAL OUTLOOK for Euro Stoxx 50 index:
Resistance at 3,401 (50-DMA); 3,516 (76.4% Fibo)
Support at 3,309 (50% Fibo); 3,275 (200-DMA)
RSI: 40.9
MAIN RESEARCH AND RATING CHANGES:
UPGRADES:
Axel Springer upgraded to overweight at JPMorgan; PT 60 Euros
Gazprom GDRs upgraded to overweight at JPMorgan; PT $7.30
Salvatore Ferragamo Raised to Hold at Kepler Cheuvreux
Aeroports de Paris cut to neutral at MainFirst; PT 155 Euros
ArcelorMittal downgraded to sell at Nord/LB; PT 12 Euros
EON downgraded to neutral at Goldman; PT 9.80 Euros
Lekoil downgraded to market perform at BMO
ThyssenKrupp downgraded to sell at AlphaValue
AMG rated new buy at Berenberg; PT 35 Euros
Axa rated new outperform at RBC; PT 29.50 Euros
CPH Chemie & Papier rated new buy at Baader Helvea
Medacta rated new neutral at JPMorgan; PT 92.20 Francs
Medacta rated new overweight at Morgan Stanley; PT 111 Francs
MSCI Asia Pacific down 0.8%, Nikkei 225 up 0.5%
S&P 500 up 0.8%, Dow up 0.8%, Nasdaq up 1.1%
Euro up 0.06% at $1.1211
Dollar Index down 0.03% at 97.49
Yen down 0.06% at 109.68
Brent down 0.2% at $71.1/bbl, WTI down 0.5% to $61.5/bbl
LME 3m Copper up 0.7% at $6070.5/MT
Gold spot down 0.1% at $1295.2/oz
US 10Yr yield little changed at 2.41%
MAIN MACRO DATA (all times CET):
8:45am: (FR) April CPI EU Harmonized MoM, est. 0.3%, prior 0.3%
8:45am: (FR) April CPI EU Harmonized YoY, est. 1.4%, prior 1.4%
8:45am: (FR) April CPI MoM, est. 0.2%, prior 0.2%
8:45am: (FR) April CPI YoY, est. 1.2%, prior 1.2%
8:45am: (FR) April CPI Ex-Tobacco Index, est. 103.68, prior 103.43
10am: (IT) March Industrial Sales WDA YoY, prior 1.3%
10am: (IT) March Industrial Sales MoM, prior 0.3%
10am: (IT) March Industrial Orders NSA YoY, prior -2.9%
10am: (IT) March Industrial Orders MoM, prior -2.7%
10:30am: (IT) March General Government Debt, prior 2.36t
11am: (EC) 1Q P Employment QoQ, prior 0.3%
11am: (EC) 1Q P Employment YoY, prior 1.3%
11am: (EC) 1Q P GDP SA QoQ, est. 0.4%, prior 0.4%
11am: (EC) 1Q P GDP SA YoY, est. 1.2%, prior 1.2%