Time for Currency Traders to Start Hedging Midterm Election, BofA Says
(Bloomberg) -- With the North American summer drawing to a close, Bank of America Corp. strategists are urging investors to plan ahead for the U.S. midterm elections.
The bank recommends owning three-month dollar-yen implied volatility heading into November, when Democrats will attempt to wrest the House of Representatives and even the Senate from Republican control. Implied volatility in dollar-yen appears "cheap" relative to the rest of the Group-of-10 at the moment, and the yen's flight-to-quality characteristics make it attractive heading into autumn's risk events, according to FX strategists Alice Leng and Vadim Iaralov.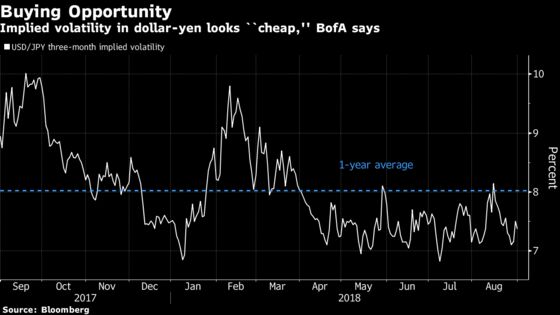 "U.S. election risk tends to be underpriced in FX historically, with a sizable rise in volatility around the election date," they wrote in an Aug. 30 research note. Owning three-month dollar-yen vol is a way to "hedge against a mid-term election shakeup, potential deterioration of trade issues with China and fallout from North Korea denuclearization talks."
Three-month implied volatility in dollar-yen currently sits at 7.35 percent, down from a peak of more than 10 percent back in February. Volatility in major developed-nation currencies remains below its one-year average, according to a JPMorgan Chase & Co. gauge based on three-month at-the-money forward options.
The outcome in November could change that. Should Democrats retake both chambers of Congress or secure a large majority in the House, markets might begin to price in the possibility of a full Democratic sweep in 2020 -- when President Donald Trump is up for re-election -- and potentially the repeal of his tax-reform package. That would give way to much broader turmoil, the analysts wrote.
"Post-election, our biggest concern is whether a complacent market can handle a rise in volatility," Leng and Iaralov said. "In those scenarios, volatility could rise significantly as policy uncertainty takes hold, an outcome that is being priced only as a tail scenario."