Tiger King Julian Robertson on Hwang's Blowup: 'I'm a Great Fan'
Then there's Hwang's pedigree. He was a protege of billionaire 88-year-old Julian Robertson, a legend in the world of hedge funds. Hwang was a so-called tiger cub who left Robertson to build Tiger Asia Management, partly with Robertson's money. After he pleaded guilty to insider trading on Chinese bank stocks in 2012, agreeing to criminal and civil settlements of more than $60 million, he closed down the fund and focused on managing money out of family office Archegos Capital Management. That firm, forced by its banks to sell more than $20 billion of shares, was behind the massive stock sell-off on Friday, people directly familiar with the trades have said.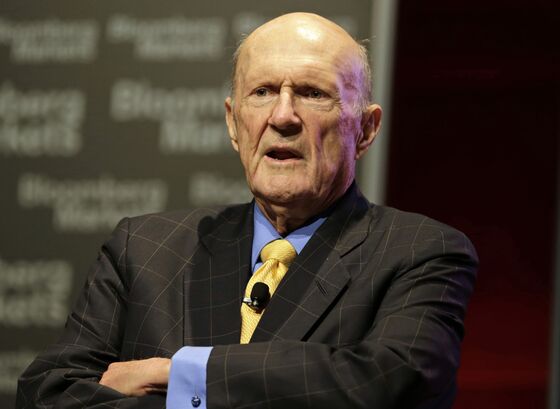 Robertson said in a phone interview with Bloomberg News reporter Max Abelson on Monday that he would still invest with Hwang. The interview has been edited for clarity:
Max Abelson: What do you think as you watch this unfold?
Julian Robertson: I'm just very sad about it. I'm a great fan of Bill, and it could probably happen to anyone. But I'm sorry it happened to Bill.
MA: But Bill has seen trouble before. He had to pay $60 million. He's seen hard times.
JR: Well, we all have. This is not an insider-trading thing here.
JR: Well, I don't know what went wrong. I know that Bill is a very decent guy. And I'm just very sorry that this happened.
MA: Will his career survive?
JR: I certainly hope he bounces back.
MA: Have you talked to him?
JR: Yes. I didn't talk to him directly, but I left a message and he answered it. I just said, you know, I was sorry, this could have happened to anyone, I'm really sorry. He wrote back and said, thank you, you're wonderful to come to my corner.
MA: But this was one of the greatest margin calls in history.
MA: There were more than $20 billion of block trades on Friday. What do you think when you hear that?
JR: I think that's an awful lot of money.
MA: It's something he had a role in, because of the scale of the leverage.
JR: He's actually a marvelous person. And it's tragic that this particular thing is probably going to have bad effects on his life.
MA: It's having bad effects on the market.
JR: He's a devoted Christian. He works with a lot of young people and all of that. You can say all this, but he's a very fine guy. If you ever do a story on the good side of Bill, call me, you hear?
MA: When was the last time you saw him?
JR: My guess would be three or four months ago. We had lunch together in Southampton. We were great friends, and are.
MA: Did he say anything that sticks out in your mind?
JR: No … Here was a really good guy who made a terrible mistake.
JR: Yeah, but I think that's a business mistake. And he was hurt by the mistake more than anybody else. So it's not as if he took money from a bank or something like that.
MA: Would you invest in him again?
JR: Because he's a good investor. And he'll learn from this. We're always learning.
MA: It was only last April that his ban was lifted. And the scale of this is just amazing.
JR: He's not one to be tiny, that's one thing for sure.