Tiffany Profit Beats While Tourist Spending Clouds Outlook
(Bloomberg) -- Tiffany & Co.'s quarterly profit smashed Wall Street estimates, but concerns about foreign tourist spending persist and unrest in Hong Kong threaten to crimp the outlook for the year.
Profit of $1.12 a share in the second quarter topped analysts' average $1.05 estimate, sending the stock up as much as 4.7%. At the same time, same-store sales, a key retail metric, fell 3% globally, excluding currency swings, Tiffany said Wednesday. Analysts had anticipated a 1.5% drop, according to Consensus Metrix.
It was more of the same the previous quarter for the New York-based jeweler, which has cited dramatically lower spending by international tourists to the U.S. over the past several periods. These shoppers are a crucial source of sales for Tiffany's stores, including the flagship in New York, and the company has tried to attract them despite a strengthening dollar and trade tensions between the U.S. and China.
"We are committed to reinvigorating the business the right way," Chief Executive Officer Alessandro Bogliolo said on a conference call with analysts. "It may admittedly be a bit hard to see how the strategic investment decisions we have made so far are positively impacting the business," due to a shift in timing for new product launches, he said.
With fewer foreign tourists visiting its U.S. locations, the jeweler moved some of its most expensive items to where consumers are: Beijing and Shanghai, where it sold limited quantities of special Tiffany Keys diamond pendants and Tiffany Love Bugs last quarter. The retailer is also upgrading all three greater China flagships, including Hong Kong. In Shanghai, Tiffany is seeking to relocate to "the most prominent corner location in the city," Bogliolo said.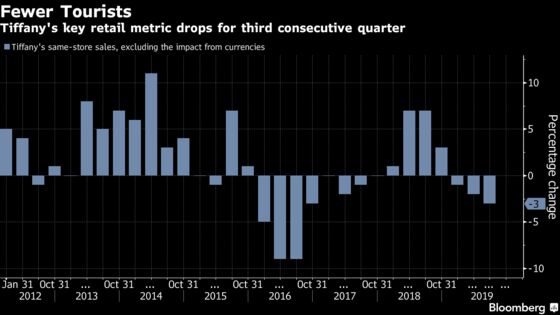 Business in Hong Kong was disrupted last quarter by the street protests, the CEO said. Mass marches opposing legislation easing extraditions to China began peacefully in June, and have widened into broader, sometimes violent, protests against Beijing's increasing grip.
"If, for example, the ongoing unrest in Hong Kong persists much longer at its current rate, we may find ourselves toward the lower end of our full-year reported sales and EPS guidance range," Tiffany Chief Financial Officer Mark Erceg said on the call. He said that if the situation deteriorates or continues as is for the rest of the fiscal year, "we may find ourselves below the bottom end of our ranges."
Tiffany shares swung between losses and gains as the market opened Wednesday. They were up 4.2% at 11:41 a.m. in New York. The stock had risen 2.7% this year through Tuesday's close, underperforming the benchmark S&P 500 Index.
Bogliolo said he's continuing to focus on the strategies he can control, such as marketing and operations. The brand has realigned to appeal to younger shoppers through its advertising and went on a multiyear hiring spree to integrate itself deeper into the diamond business. The company is working to accelerate new product introductions and keep a visible profile, Bogliolo said.
Earlier this month, Tiffany said it would enter India for the first time through a partnership with Reliance Brands Ltd. It will open two stores to begin courting the nation's rising middle class.