Thyssenkrupp Investor Says Stock Could Jump 20% on Elevator Cash
Thyssenkrupp AG's shares could surge if the engineering conglomerate gets a large cash payment for its prized elevator unit, one of the biggest shareholders said.
Once synonymous with German industrial prowess, Thyssenkrupp is fighting for survival and needs to sell its elevator business -- which could fetch more than 16 billion euros ($17.3 billion) -- to help stave off a broader collapse. A "good clean" bid for the unit could spur a big squeeze on short positions and drive shares much higher, according to Cevian Capital co-founder Christer Gardell.
"If there will be a bid with a very significant cash portion on the levels mentioned in the media, I think the share price could move way north of a 20% increase," Gardell said in an interview in Stockholm.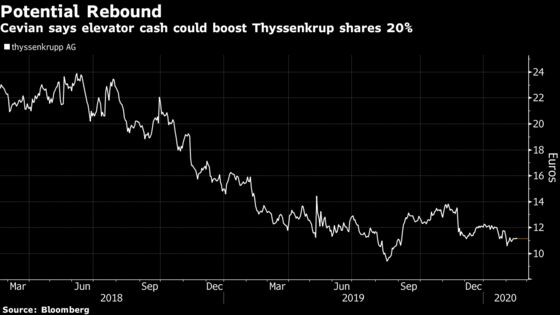 Thyssenkrupp's shares have slumped more than 50% in the past two years as the company struggled with rapidly deteriorating finances. It said last week that it expects to make a decision on its elevator sale soon.
Finnish rival Kone Oyj and CVC Capital Partners are competing with three private-equity groups, according to people familiar with the matter. Those groups are: Blackstone Group Inc., Carlyle Group Inc. and Canada Pension Plan Investment Board; Advent International, Cinven and the Abu Dhabi Investment Authority; Brookfield Asset Management Inc. and Temasek Holdings Pte.
Thyssenkrupp board members are split on whether to take Kone's higher offer despite antitrust risks, or go with a private equity deal that wouldn't have competition issues. Cevian, which has a seat on Thyssenkrupp's supervisory board and is the second-biggest shareholder with a stake of almost 14%, declined to comment on its preferred bid.
"As in all bidding processes, if you have an alternative that doesn't need to go through anti-trust and one that does, the one that doesn't will be faster than the other, and that has a distinct value," Gardell said. "The question is how great that value is. It is up to the board and the investment bankers to assess that value."
He also said it could make sense for Thyssenkrupp to ditch non-steel units like ship building and factory construction once the elevator business is sold. Consolidation in the European steel industry is also "a good idea," he said.
Short interest in Thyssenkrupp stood at 10.6% of its outstanding shares on Feb. 14, up from just about 2.5% a year ago, data compiled by IHS Markit show. While the current short interest is above historic average, it's down from a high of 13.4% in September.