Three Reasons Why the Yuan Won't Breach 7 Per U.S. Dollar
(Bloomberg) -- China has sought to stabilize the yuan rather than use it as a mercantilist weapon, and there are three reasons why that's the correct strategy, according to Stephen Jen, CEO of Eurizon Slj Capital Ltd., an asset-management firm based in London.
First, China's current account is "about balanced", which means yuan devaluation may help exporters but it will hurt importers, Jen wrote in a research note dated October 29, adding such a move would also trigger a backlash from the U.S.
"The RMB's impact on capital flows and the financial markets may be multiple times more important", wrote Jen, who is a former International Monetary Fund official.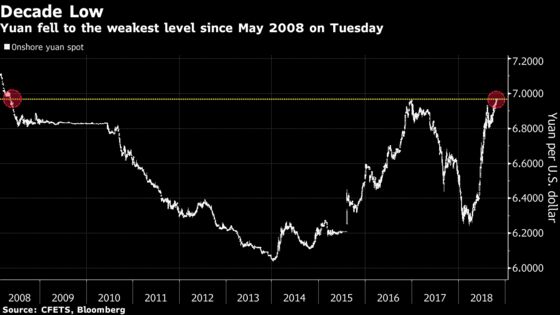 Second, the yuan holds great influence over emerging market currencies with much of their depreciation coming from China's exchange rate weakness this year, said Jen. China's currency has fallen by around 9 percent over the past six months, but saw its volatility tamed earlier in October.
"The relative stability of the EM markets so far in Q3 could also have resulted in part from the relative stability in the RMB. I tentatively suggest that China's RMB policy is now setting the tone for EM currencies, while the Fed is dictating how the G-10 currencies trade."
Jen's third reason is psychological.
"7.00 is an important psychological threshold, and I expect Beijing to take actions to prevent it from being breached, unless the dollar gaps higher. I expect the RMB to outperform in an environment of a strong dollar."