Three Charts on How Buyers Piled Into Asia Oil ETFs Before Crash
(Bloomberg) -- Just like U.S. retail investors, Asia buyers rushed into exchange-traded funds tracking oil as the price of the commodity plummeted.
There are 13 crude-related ETFs listed on Asian bourses, and most of them saw total assets and inflows peak before this week's crash in the commodity, according to Bloomberg-compiled data. With the aggregate assets still around $3.3 billion now, the stakes remain high.
Retail investors, most of whom got in to bet on a rebound in oil, are in for a rough ride. This week, U.S. crude futures for May delivery plunged below zero for the first time ever, prompting some products to take unusual steps to stay open and their managers warned of potential wipeouts.
Here are three charts showing the buying frenzy into these ETFs and the consequences investors face.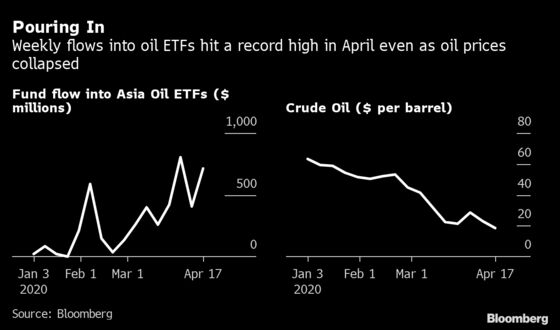 Asian retail investors took the plunge in oil prices since May as a huge buying opportunity. The 13 funds saw inflows spike in the past seven weeks and took in a record $803 million during the week of April 3.
"Investors have never seen such low prices for crude and have been flocking to ETFs in anticipation that the trend is bound to turn some time in the future," said Hitesh Jain, an analyst with Yes Securities Ltd. in Mumbai.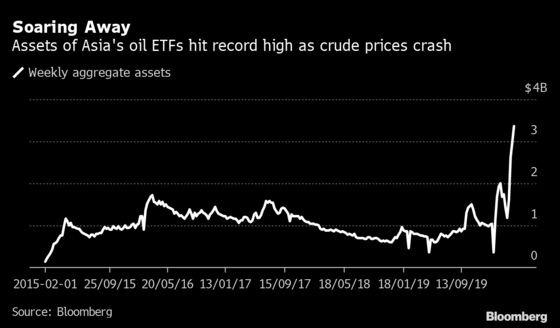 The race to buy Asian oil ETFs has pushed up their aggregate assets to an all-time high of $3.3 billion, more than triple the tally at the beginning of this year.
Investors will have to wait to see their bets pay off, assuming those funds can survive the swoon. With suppliers unable to cut production fast enough to match the "unprecedented demand implosion," Yes Securities' Jain expects the glut to continue until at least the second half of the year, on the condition that some restrictions related to the pandemic are eased.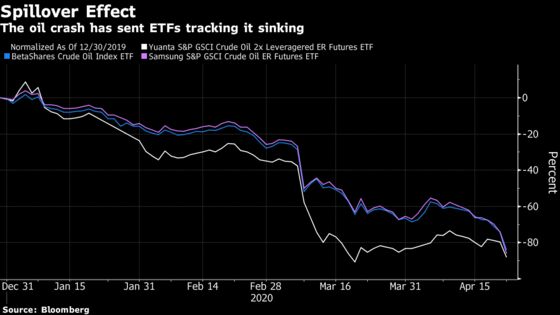 Some oil funds have fallen more than U.S. crude itself. Hong Kong's Samsung S&P GSCI Crude Oil ER Futures ETF has sunk 85% this year, compared with a fall of 76% for West Texas Intermediate futures. Australia's BetaShares Crude Oil Index ETF has slumped 83%, while a Taiwanese leveraged fund tracking the commodity has seen its assets shrink 75% in 2020 as it lost 86% in value, the worst among its peers in Asia.