This Sector Keeps Calling and No One Is Answering: Taking Stock
(Bloomberg) -- Want the lowdown on European markets? In your inbox before the open, every day. Sign up here.
After two months of the equity rally, you would expect at least all sectors to be in the green. Well, think again. Telecoms are still lagging and is the only negative sector this year with a 2.7% drop against a 11% gain for the Stoxx Europe 600. The focus has been on growth and trade, which have little impact on telecom carriers, and the easing international trade tensions have shifted investor attention back to cyclicals. Now the question: for how long?
The latest set of European PMIs was in line or a touch better than the surveys, but they are still contracting and it may become difficult to justify further cyclical outperformance.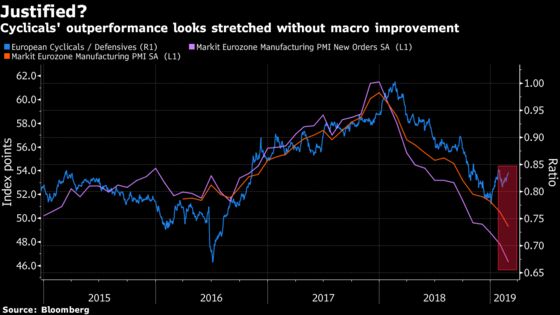 Telecoms are a typical defensive industry, which has also suffered from specific issues. Concerns about 5G deployment and soaring costs that it may imply -- particularly in Germany --, as well as a hypothetical consolidation that some investors are still hoping for, seem to have taken their toll on a once beloved sector that carries stable cash flows and high dividends.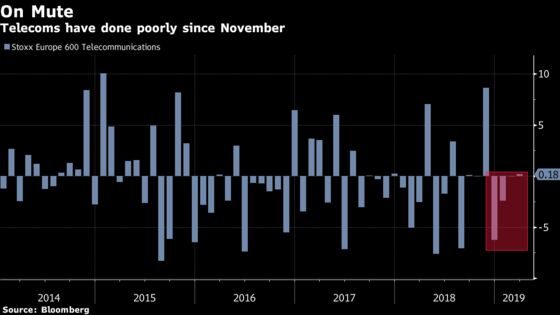 Have things changed so much? Not really. The sector is still cheap, with valuation ratios well below the long-term average, and the dividend yield is near a six-year high -- part of the reason telecoms did well in time of turmoil last November.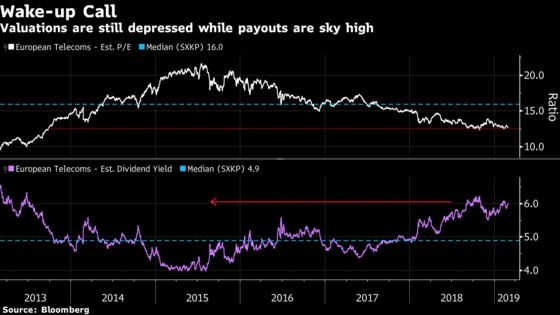 So what to expect? The sector needs a catalyst. Whether it's an investors' flight to safety, a renewed appetite for value stocks, some further consolidation or the return of equity flows into Europe.
Stock specific catalysts could also help. Earning reports from large telecom carriers have been in-line or slightly disappointing but no major dividend cut has been reported so far and dividend swaps are still hinting at healthy payouts, even if some dividends could be cut.
Stock
Indicated
Div. Yield
Est. Div.
(local)
Div. Swap
(local)
Implied Div.
up/downside
Orange
5.2%
0.7
0.7
0%
Deutsche Telekom
4.8%
0.75
0.65
-13%
Telefonica
5.3%
0.4
0.375
-6%
Vodafone
9.4%
0.153
0.1361
-11%
BT Group
7.2%
14.67
14.7
0%
Source: Bloomberg
In the bottom 20 shares of the Stoxx Europe 600 this year, there are 6 telcos: Iliad, 1&1 Drillisch, Telefonica Deutschland, Sunrise, Vodafone and BT. Looking at the short interest, they are not heavily shorted except for Iliad and 1&1 Drillisch, according to IHS Markit data.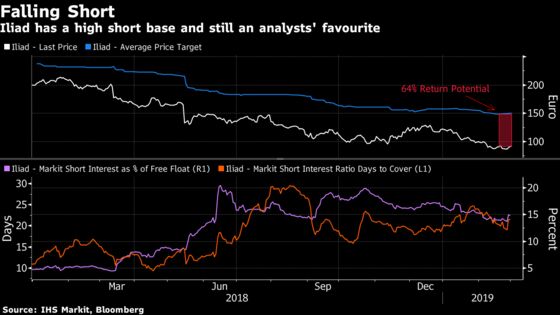 Iliad has been the worst performer -- down 25% this year -- and has the highest short base by far. The company is reporting earnings on March 19 before market open and a significant spread between its share price and the average analysts price target tracked by Bloomberg. Something to keep in mind in case of an earnings surprise to the upside.
Watch trade-sensitive sectors after reports China and the U.S. are close to a trade deal which could lift most or all U.S. tariffs slapped on Chinese goods. Watch miners, steelmakers, semiconductors, autos and other cyclical segments like industrials and chemicals; oil stocks could also benefit from continued gains in crude.
Watch the pound and U.K. stocks after Theresa May got a Brexit boost, as pro-leave Tories outlined their terms for supporting the PM's plan, including stronger language that the Irish border backstop will be temporary, according to the Sunday Times.
Watch oil and oil companies as crude climbed on signs of slowing U.S. production growth and as OPEC and its allies deepened output cuts aimed at averting a global glut. OPEC's output dropped last month, aided by unplanned supply losses in Iran and Venezuela. The group's key ally, Russia, also made deeper production curbs.
"European growth currently looks like the weakest of all major regions, in our economists' view, with Italy in recession, Germany close to it, and most other economies growing only at near trend pace," Goldman Sachs analysts wrote in a note. "That said, our economists still see reasons to expect a reacceleration to slightly above-trend growth in 2H19, including easier fiscal policy, lower oil prices, and rising wage growth."
Ted Baker CEO Has Resigned with Immediate Effect
Big Tobacco Loses Appeal in $13 Billion Quebec Smokers Lawsuits
Pharma's Leaner Look Spells Trouble for Obesity Drug Research
Outokumpu Lenders Extend Syndicated Revolving Credit Line
Bankia to Sell EU1B of Real Estate-Linked Loans: Confidencial
Boskalis Joint Venture to Sell Kotug Smit Towage; EV of EU300M
Rolls-Royce Backs Out of Fighter Jet Project With Turkey: FT
Suga Denies FT Report That Abe Backed Opponents of Nissan Merger
Julius Baer Buys Majority Stake in NSC Asesores
Bankia to Sell EU1B of Real Estate-Linked Loans: Confidencial
Daily Mail to Spin Off Euromoney Stake to Shareholders
NOTES FROM THE SELL SIDE:
Consumer-staples companies need to keep investing in marketing to ensure they sustain strong organic growth, RBC says in a note upgrading Carlsberg and downgrading Heineken. Carlsberg is raised to outperform, PT up to DKK860 as co. has been delivering growth ahead of peers due to increased investments in marketing and sales. Heineken is cut given decline in marketing and sales spending. Reckitt Benckiser and Unilever are kept at underperform.
TECHNICAL OUTLOOK for Stoxx 600 index:
Resistance at 374.4 (June 2018 low); 379.9 (23.6% Fibo)
Support at 370 (200-DMA); 365.1 (38.2% Fibo)
RSI: 70
TECHNICAL OUTLOOK for Euro Stoxx 50 index:
Resistance at 3,315 (38.2% Fibo); 3,353 (trend line)
Support at 3,290 (200-DMA); 3,262 (March 2018 low)
RSI: 71.9
MAIN RESEARCH AND RATING CHANGES:
UPGRADES:
Ageas upgraded to hold at HSBC; PT 42.20 Euros
Carlsberg upgraded to outperform at RBC; PT 860 Kroner
Evolution Gaming raised to buy at Kepler Cheuvreux
Sievi Capital upgraded to accumulate at Inderes; PT 1.35 Euros
Acciona downgraded to neutral at Citi
Casino downgraded to hold at SocGen; Price Target 47 Euros
Centamin downgraded to neutral at CI Capital; PT 1 Pound
Heineken downgraded to sector perform at RBC; PT 86 Euros
Knorr-Bremse downgraded to hold at Kepler Cheuvreux; PT 90 Euros
Nornickel GDRs downgraded to sell at Citi; PT Set to $18.80
Prosegur Cash downgraded to neutral at Citi
Victrex downgraded to sell at Citi
MSCI Asia Pacific up 0.2%, Nikkei 225 up 1%
S&P 500 up 0.7%, Dow up 0.4%, Nasdaq up 0.8%
Euro little changed at $1.1365
Dollar Index down 0.08% at 96.45
Yen down 0.06% at 111.96
Brent up 0.4% at $65.3/bbl, WTI up 0.4% to $56/bbl
LME 3m Copper down 0.3% at $6461.5/MT
Gold spot up 0.1% at $1294.7/oz
US 10Yr yield up 1bps at 2.76%
MAIN MACRO DATA (all times CET):
10:30am: (EC) March Sentix Investor Confidence, est. -3.1, prior -3.7
10:30am: (UK) Feb. Markit/CIPS UK Construction PMI, est. 50.5, prior 50.6
11am: (EC) Jan. PPI MoM, est. 0.3%, prior -0.8%
11am: (EC) Jan. PPI YoY, est. 2.9%, prior 3.0%
5pm: (DE) Feb. Foreign Reserves, prior 455.5
5pm: (DE) Feb. Change in Currency Reserves, prior -3.5b