This Chinese Pig Breeder Is Gaining From Swine Fever for Now
(Bloomberg) -- China's top hog and chicken breeder may benefit rather than be hurt by the outbreak of African swine fever in China.
The highly contagious disease, which has led to the culling of more than half a million pigs in the world's largest pork market, has hardly touched the Pearl River delta in southern China, where most of Wens Foodstuffs Group Co.'s farms are located. The cut in supply from major producing areas located mainly in northern and central China has pushed up chicken and pork prices in the country's south and east, where Wens sells most of its products.
China's hog prices rebounded to the highest in nearly two years in October after a government ban on the transport of live hogs triggered a shortage of the meat, particularly in consuming areas in the south. More Chinese are also shifting to poultry as the spread of African swine fever worries consumers, sending prices of chicken meat to the highest level since the end of 2015.
"Wens will benefit from rising hog prices because these consuming areas can not produce enough to meet local pork demand after the transport ban," said Yang Hao, an analyst with China Post Securities.
About half of Wens' revenues came from Guangdong and Guangxi, according to the company's latest interim report. The two provinces have not reported any outbreak of African swine fever yet, The disease has been detected in 20 provinces and 47 cities in the country, resulting in some 600,000 hogs being culled, according to the Ministry of Agriculture and Rural Affairs.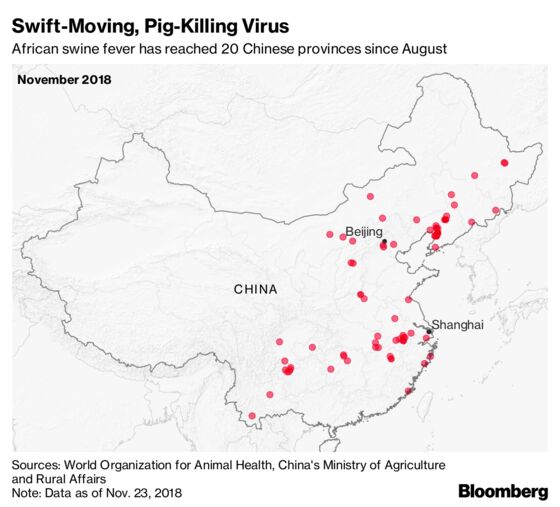 The gain in pork prices is expected to accelerate in consuming areas ahead of peak seasonal demand during the Lunar New Year holiday, which may further widen the price gap with the producing areas, said Feng Yonghui, chief analyst with pork industry portal www.soozhu.com. The price in the southwestern province of Sichuan was nearly 70 percent higher than in Jilin in the northeast, according to data provided by China's agriculture ministry.
Wens' shares advanced 1.7 percent on Thursday to the highest level since January. The stock has risen about 27 percent since Aug. 20, the month when African swine fever outbreaks were first reported in China. The shares have outperformed an 2.5 percent decline in the broader A-share market and a 21 percent gain in rival Muyuan Foodstuff Co.
Another Chinese pig breeder, Chuying Agro-Pastoral Group Co., based in Henan province which reported the disease in August, has seen a steep decline in its shares as a cash crunch due to the outbreak made it struggle to repay debts.
The recent rally in its share price is making Wens more expensive. The company's Shenzhen-listed stock is trading at about 22.8 times estimated forward earnings per share, after touching a record high of 26 times last month, according to data compiled by Bloomberg. Consensus forecast for the company's earnings for this year were revised up by 5.41 percent in the past month as of Wednesday.
Still, Wens' future is not without threat. The company said pig revenue fell more than 10 percent in October from the previous month after the spread of African swine fever disrupted transport and sales.
Also, the outbreak may spread farther in China, hurting the nation's $128 billion pork industry. Feng Zhongwu, deputy head of the animal husbandry department at the agriculture ministry, said last week that efforts to control the disease are "very arduous and extremely urgent" because a large number of family-run farms have made prevention difficult.
"The swine disease has spread quite extensively," said Fu Gang, a fund manager at Shanghai RiverEast Asset Management Advisory Ltd. "Wens might be affected if large-scale culls occur" again.