These Outrageous Europe Events Would Shake Markets: Taking Stock
(Bloomberg) -- While some investors are rejoicing about the positive trade news of the weekend, others are putting out thought-provoking predictions for the year to come. Imagine: you wake up in 2019 and find out that Germany, abandoned by Angela Merkel, is poised to enter recession.
Merkel's departure from the political stage spurs a power struggle, stealing attention away from Germany's ailing car industry, which hits the economy. This is one of Saxo Bank's "Outrageous Predictions" for 2019, which include President Donald Trump firing Federal Reserve Chairman Jerome Powell and Apple acquiring Tesla. Saxo Bank describes them as a series of unlikely but underappreciated events which, if they were to occur, could send shock waves across financial markets.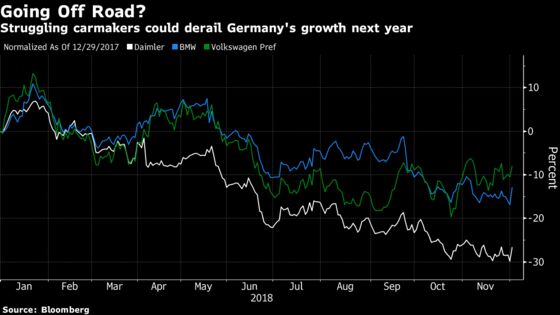 Here we'll focus on Saxo's contrarian ideas for Europe next year. The auto industry accounts for 14 percent of Germany's GDP, and 2018 has been a year to forget for carmakers. BMW is currently trading at 7.2 times estimated earnings for next year, while Daimler and Volkswagen are trading at 6.6 times and 6.2 times respectively. Fears about future global vehicle demand might explain why.
Most investors agree that 2019 is likely to see more Italian political drama. But Saxo Bank takes it a step further in its outrageous predictions: faced with a 300 billion-euro ($341 billion) debt refinancing amid rising interest rates, Italian concerns would hobble European lenders, plunging the entire bloc into recession. And as contagion spreads, core EU members could approve a debt jubilee for levels over 50 percent of gross domestic product.
It's an ugly picture. But French and Spanish debt-to-GDP ratios have already soared to reach almost 100 percent, while Italy's is much higher. A resilient and disciplined German economy is responsible for keeping the euro-zone indebtedness on track so far.
"If some of these outrageous predictions see the light of day, we might finally see a healthy shift toward a less leveraged society, with less focus on short-term gains and growth," Steen Jakobsen, chief economist at Saxo Bank, said in the report. "On the negative side, we could see considerable worsening of central bank independence, a credit crunch, and big losses in the asset where everyone is too long: real estate."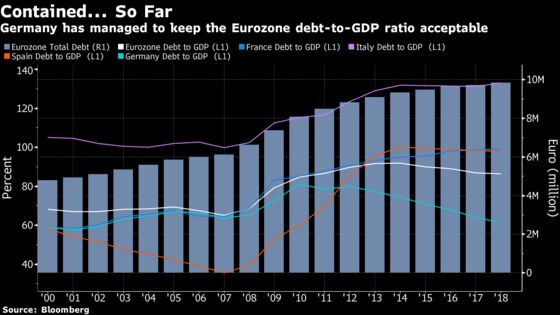 Moving on to the next outrageous prediction from Saxo: Theresa May's Brexit deal dies in the U.K. Parliament, forcing a snap election, which the Labor Party wins, making Jeremy Corbyn the Prime Minister. The victorious Labor Party then embarks on a "mid-20th century-style socialist scorched-earth campaign to even out the U.K's gross inequalities," fueling a surge in inflation and a mass exit of foreign investors. Finally, the British pound slides more than 20 percent to reach parity with the U.S. dollar.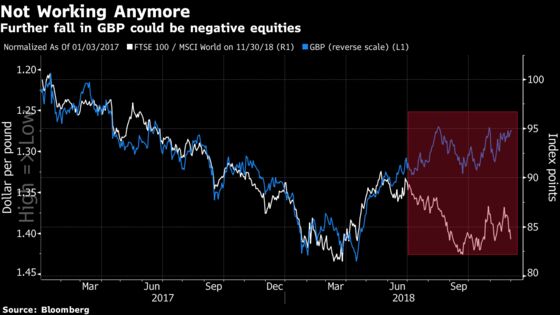 U.K. stocks, which are already down about 8 percent in 2018 and set for the worst year since 2008 amid the political turbulence, are unlikely to celebrate the pound's drop despite the large share of exporters in the FTSE 100 Index.
Investors may scoff at the prospect of losing sleep over Saxo's outlandish potential outcomes. Its scenario last year that Bitcoin could tumble to $1,000 in 2018 was too pessimistic, although the cryptocurrency did suffer a massive sell-off. And yet as part of predictions for 2015, it anticipated British voters would eventually opt to leave the EU, a prospect not seen as terribly likely at the time.
Watch trade sensitive sectors as Asia is back in the red after the trade truce between the U.S. and China had supercharged trading on Monday. With little specifics to go on as to how exactly trade tensions are going to be permanently eased, some of the gains seen on Monday just might be given back.
Watch oil and oil stocks as crude is on track for its biggest two-day gain since June, following an auspicious start to the week which boosted shares in the European oil and gas sector, so that sector may avoid any slip backwards.
Watch Italian equities amid a series of conflicting reports about the direction of the country's negotiations with the EU on its budget deficit plans. Italian banks including UBI Banca, UniCredit, Intesa Sanpaolo and Mediobanca may be in for volatile day.
"We remain modestly pro-risk in our asset allocation (OW equities, UW bonds) but we downgraded credit to UW to reduce risk (US late cycle, Italian risks)," Goldman Sachs strategists write in a note. "We stay OW commodities after the sharp oil price declines. With low returns across assets and elevated portfolio risk, we stay OW cash. In 2019, investors will likely need to deal with more elevated volatility and tail risk across assets."
Danske Bank has built a capital buffer of as much as $2.7 billion to absorb potential fines as it deals with the fallout of its role in one of Europe's worst ever money laundering scandals.
German prosecutors, policemen and tax inspectors raided Deutsche Bank last week to find evidence on a British Virgin Islands-based unit that was part of Deutsche Bank's Global Trust Solutions business , Financial Times reported, citing people briefed on matter.
The steepest annual decline for Barclays's shares in seven years has cost the British bank its place in the Stoxx Europe 50 benchmark, index provider Stoxx Ltd. said on Monday.
Equity markets are set to rise for several years, according to a money manager at PineBridge Investments, in a rebuttal of the consensus view that we're in the late stage of an economic cycle.
Wacker Chemie to Leave Stoxx Europe 600, Knorr Bremse to Join
Zumtobel Second Quarter Revenue Beats Highest Estimate
Zur Rose: KWE Stake Won't Return to Pre-Issue Level After Glitch
Maersk Invests $20 Million in Hamburg Sued Reefers: Borsen
Unicaja Reduces Planned Jobcuts to 800, Expansion Reports
Nestle CEO Sees U.S. Driving Health-Product Sales to $3 Billion
Telecom Italia CEO Gubitosi Says Goal Is Giving Co. Stability
Deutsche Telekom Says Huawei Can't Spy Through 5G Network: Welt
Irish Regulator Sets Up Investment Banking Unit Ahead of Brexit
Mike Ashley in Talks to Sell Newcastle United: Sky
Sofil Reaches 95.8% Stake in Parmalat, to Pursue Squeeze-Out
Elior Group FY Rev. EU6.69B, Est. EU6.66B
Neopost 3Q Sales EU265m, Organic Growth 0.2%
SAS Fourth Quarter Revenue Beats Highest Estimate
NOTES FROM THE SELL SIDE:
SocGen believes European value stocks have sold off to a point from where they may rebound to beat U.S. equities, like they have on occasions in the past. Investors expecting to see a "reversal in fortunes" for Europe next year should go long European value stocks and short their U.S. counterparts, according to the broker's quantitative strategists.
Bernstein says L'Oreal's recent top-line growth was driven by Luxe/Active, but expected slowdown in the division from current "elevated" and "unsustainable" levels could drag down overall growth at the French beauty products maker. The firm's performance and prospects are "not strong enough" to justify current premium valuation.
Jefferies writes sentiment on auto industry suppliers is likely to remain weak in 1H19 but the scope for tire firms to grow profit looks more promising. The broker upgraded Faurecia to buy as recent de-rating means downside for 2019 and 2020 now priced in. Warning signs in 2019 seem to center on German manufacturers and demand, so the broker cut Continental and Hella to hold from buy.
Liberum says pressure on auto-sector earnings is likely to hasten consolidation among U.K. car dealers, and those with the best track records and balance sheets are most likely to benefit. The broker initiates four distributors' stocks: Lookers (buy, PT 138p), Vertu (buy, PT 56p), Motorpoint (buy, PT 285p) and Pendragon (hold, PT 24p).
TECHNICAL OUTLOOK for Stoxx 600 index:
Resistance at 365.1 (38.2% Fibo); 367.8 (50-DMA)
Support at 360. (Jan. 2017 low); 353.2 (50% Fibo)
RSI: 52.6
TECHNICAL OUTLOOK for Euro Stoxx 50 index:
Resistance at 3,233 (50-DMA); 3,262 (March low)
Support at 3,194 (50% Fibo); 3,072 (61.8% Fibo)
RSI: 54.6
MAIN RESEARCH AND RATING CHANGES:
UPGRADES:
Aareal Bank upgraded to buy at HSBC; PT 36 Euros
BT upgraded to buy at Goldman; PT 3.20 Pounds
BayWa upgraded to buy at LBBW; PT 27.50 Euros
Befesa upgraded to overweight at JPMorgan; PT 44 Euros
Carl Zeiss Meditec raised to buy at HSBC; Price Target 75 Euros
Faurecia upgraded to buy at Jefferies; PT 42 Euros
K+S upgraded to buy at Baader Helvea
Nokian Renkaat raised to buy at Jefferies; Price Target 32 Euros
Svenska Handelsbanken raised to equal-weight at Barclays
Swedbank upgraded to overweight at Barclays; PT 249 Kronor
Aurubis downgraded to hold at Bankhaus Lampe; PT 50 Euros
BAE downgraded to neutral at BofAML
CaixaBank downgraded to sell at Goldman; PT 3.50 Euros
Continental downgraded to hold at Jefferies; PT 145 Euros
Hella downgraded to hold at Jefferies; PT 41 Euros
Krones downgraded to sell at Bankhaus Lampe; PT 62 Euros
Nordic Semiconductor downgraded to hold at ABG; PT 33 Kroner
SEB downgraded to equal-weight at Barclays; PT 110 Kronor
Swiss Life downgraded to hold at Kepler Cheuvreux; PT 430 Francs
Accor rated new outperform at RBC; PT 50 Euros
Basic-Fit rated new underperform at RBC; PT 26 Euros
Cineworld rated new outperform at RBC
Domino's Pizza Group rated new outperform at RBC; PT 3.50 Pounds
EI Group rated new sector perform at RBC; PT 1.85 Pounds
EssilorLuxottica rated new hold at Equita; PT 126 Euros
Ferrovial resumed at intermoney valores With Hold
Greene King rated new outperform at RBC; PT 6 Pounds
Gym Group PLC/The rated new outperform at RBC; PT 3.50 Pounds
InterContinental Hotels rated new sector perform at RBC
J D Wetherspoon rated new underperform at RBC
Kinepolis rated new sector perform at RBC; PT 52 Euros
Lookers rated new buy at Liberum
Marston's rated new outperform at RBC; PT 1.20 Pounds
Merlin rated new outperform at RBC; PT 3.75 Pounds
Mitchells & Butlers rated new underperform at RBC
Motorpoint group rated new buy at Liberum
Pendragon rated new hold at Liberum
Vapiano rated new underperform at RBC; PT 6 Euros
Vertu Motors rated new buy at Liberum
Whitbread rated new sector perform at RBC; PT 47 Pounds
MSCI Asia Pacific up 2%, Nikkei 225 down 2.4%
S&P 500 up 1.1%, Dow up 1.1%, Nasdaq up 1.5%
Euro up 0.28% at $1.1386
Dollar Index down 0.36% at 96.69
Yen up 0.52% at 113.07
Brent up 1.1% at $62.3/bbl, WTI up 1.1% to $53.5/bbl
LME 3m Copper down 0.3% at $6277.5/MT
Gold spot up 0.6% at $1237.7/oz
US 10Yr yield down 1bp at 2.96%
MAIN MACRO DATA (all times CET):
8:45am: (FR) Oct. Budget Balance YTD, prior -87.1b
9am: (SP) Nov. Unemployment MoM Net ('000s), prior 52.2
10:30am: (UK) Nov. Markit/CIPS UK Construction PMI, est. 52.5, prior 53.2
11am: (EC) Oct. PPI YoY, est. 4.5%, prior 4.5%
11am: (GR) 3Q F GDP (QoQ), est. 0.4%, prior 0.2%