Stay Calm And Carry On With Stocks, Some Brave Investors Say
(Bloomberg) -- Not all investors are rushing to exit stocks and cash in following the latest market bloodletting.
"It's a good time to do the opposite from switching into cash because the level of anxiety is high, and so any improvement in the newsflow would have an outsized positive effect given the state of investor psychology," Ken Adams, head of tactical asset allocation at Aberdeen Standard Investments, said by phone. "We're not seeing indiscriminate selling in equities. These aren't panic-panic moves, like we saw during the financial crisis."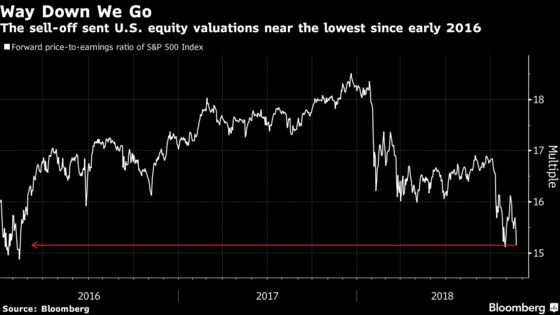 The global stock market's fall accelerated this week, sending investors in search of shelter amid concerns about rising interest rates and the sustainability of tech-companies' profits. Goldman Sachs Group Inc. strategists said that it's time for equity traders to boost their cash positions to reduce their level of risk.
Still, the Federal Reserve is starting to consider a pause to its money tightening and end its cycle of rate hikes in the spring, MNI reports. U.S. and European shares rebounded on Wednesday in a sign that market players are seeing pockets of value after the sell-off.
Aberdeen bought U.S. stocks in early November after taking profit at the end of September and is underweight in cash, credit and government bonds. And the $700 billion asset manager isn't the only one that continues to favor equities: UBS Wealth Management, DWS Group and JPMorgan Asset Management all say the stock fundamentals remain attractive and that the bull market isn't over just yet.
"We don't think investors should exit the markets right now," said Vincent Juvyns, a London-based global market strategist at JPMorgan Asset Management. "Equity fundamentals remains strong, valuations are in line or even below long-term averages and earnings growth should remain robust in 2019."
Investors should however consider adopting a more balanced approach, Juvyns said. JPMorgan's multi-assets team has been boosting both cash and U.S. Treasuries at the expense of equities in recent months too reduce risk.
UBS Wealth Management on the other hand prefers 10-year U.S. Treasuries to cash holdings as a portfolio stabilizer, and recently increased its overweight position in global stocks.
"We view the sell-off as overdone and a bull market correction, with valuations that have become more compelling," Jason Draho, head of tactical asset allocation Americas at UBS Global Wealth Management, said in a note.
Indeed, on a forward price-to-earnings basis, the S&P 500 Index is now trading near the lowest level since early 2016. And European equities, whose drop has been exacerbated by Italian and U.K. political concerns, are even cheaper, approaching mid-2013 lows.
"Don't get into a panic mode," said Christian Hille, Frankfurt-based global head of multi-asset and solutions at DWS Investment, who sees U.S. and emerging-market equities as attractive. "The market is pricing in the fear of potential de-globalization and that is something you have to take that into consideration when you invest in risk assets, and one has to be much more tactical than we used to be in the past two to three years."
HSBC Private Banking has been holding more cash than usual in recent months during the equity sell-off and was looking for a better entry point. It now sees stocks as more appealing, and has a small overweight in equities with a preference for the U.S. market. According to its chief market strategist Willem Sels, investors could balance their equity risk by buying gold and high-rated dollar corporate credit.
"Following the significant recent correction in valuations, and given that we don't expect to see a recession, we believe this would be the wrong time to sell equities," Sels said in emailed comments. "Following the correction, we think equities are now better value."