Theresa May Can Make Europe Great Again, Money Managers Say
(Bloomberg) -- Some of the world's biggest fund managers say the fate of investments into battered European equities lies in Theresa May's hands.
As the U.K. Prime Minister meets European leaders in Austria on Wednesday, investors will be trying to gauge the likelihood and timing of a Brexit deal. Any signs of progress in unlocking the talks, which have stalled for months over how to prevent the return of a hard border on the island of Ireland after Brexit, would boost investor confidence that the deal will soon be reached and may fuel inflows into European and U.K. stocks, according to State Street Global Advisors.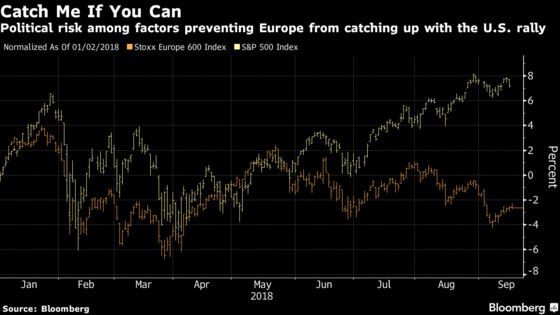 Positive developments in the U.K.-EU negotiations may turn out to be the missing key to turning around the negative market sentiment that has fueled $40 billion of investment outflows from European equities this year. The region's combination of political risks, slowing growth and trade concerns has instead pushed investors toward U.S. and Japanese stocks.
"If the no-deal Brexit concern is removed, that would be very positive for Europe and this would be the factor that will help Europe rise before the end of the year," said Joerg de Vries-Hippen, chief investment officer for European equities at Allianz Global Investors in Frankfurt, which has about 524 billion euros ($612 billion) under management.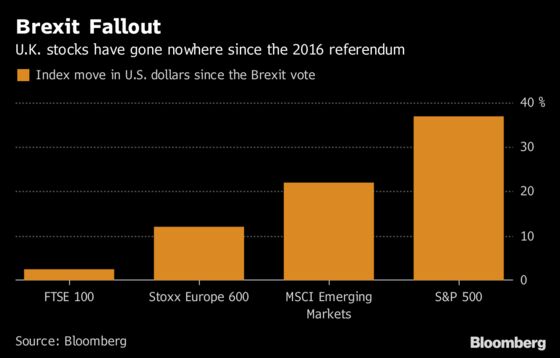 Although shorting U.K. assets is one of the biggest trades globally, according to Bank of America Merrill Lynch, investors in September reduced their underweight in British stocks as concerns about a no-deal Brexit subsided.
U.K. equities are trading at the steepest discount versus the Stoxx Europe 600 Index since 2014, thanks to the volatility in the pound and political uncertainty. At the same time, European equities haven't been this cheap compared to their American peers since 2012.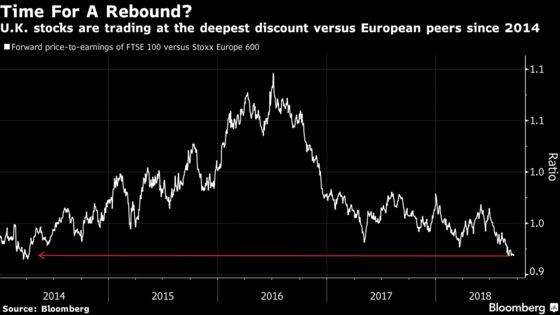 The next few weeks are crucial for May and the Brexit talks. A special one-off summit for the deal to be signed could be convened as soon as this week. Analysts at banks including Nomura International Plc, Nordea Bank AB and ING Groep NV expect the U.K. currency to continue rising as the U.K. and European Union work toward finding a way to break the current deadlock.
"If the U.K. looks safe again, it's going to encourage a large flow into U.K. assets and may also drive flows into Europe," said Esther Baroudy, senior portfolio manager at State Street Global Advisors, which has about $2.8 trillion in assets. "There are excellent opportunities in mid-sized U.K. companies which have strong proprietary technologies. These will fare well even with a strong boost to the sterling post a Brexit deal."