Here's One Commodity That Could Benefit From Trump's Trade War
(Bloomberg) -- There's at least one commodity that may benefit from Donald Trump's trade war with China: nitrogen fertilizer.
Soybean prices have plummeted since May as the oilseed got caught in the crossfire of the spat that prompted China to slap duties on American farm goods. The collapse will probably prompt U.S. farmers to swap soybean acres in 2019 for corn, a crop that's a heavy user of nitrogen fertilizer, said Jonas Oxgaard, an analyst at Sanford C. Bernstein & Co. in New York.
"If this persists, I would expect U.S. farmers to switch from soybeans to corn, and that's a positive for all the fertilizer producers, particularly the nitrogen ones," Oxgaard said by telephone. "Why on earth would you plant more soybeans if your biggest importer is putting a big tariff on it?"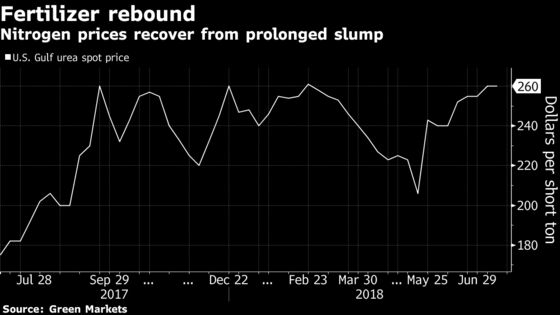 The potential boost from trade tensions comes as fertilizer markets are already in the midst of a turnaround following a prolonged slump. U.S. spot prices for urea, a tradable, commoditized form of nitrogen fertilizer, have surged 49 percent in the past 12 months, according to Green Markets data.
Demand for nitrogen, the world's most commonly used crop nutrient, has picked up from a delayed planting season, and prices could rise to $300 a metric ton by the end of the year, from about $270 now, Oxgaard said. The U.S. is a net importer of nitrogen, and gets most of its supply from Trinidad and Tobago, he said.
While fertilizer stocks continue to lag, there's an "opportunity" for investors as the commodity's rally is expected to continue, Oxgaard said. Producers such as CF Industries Holdings, Mosaic Co. and Nutrien Inc. are expected to post strong second-quarter earnings, he said in a July 10 note.
In June, Charles Neivert, an analyst at Cowen & Co., compared fertilizer shares to "green bananas," urging investors to buy stocks soon to get in on the recovery.