There's Little Room for Optimists in Hong Kong's Stock Market
(Bloomberg) -- As investors in the U.S. cheer another quarter of making money, those holding Hong Kong stocks can only hope October will end a five-month losing streak. So far, it's not going well.
The Hang Seng Index's 2.4 percent slump on Tuesday was a brutal start to the fourth quarter, and an outlier globally -- only shares in Laos are doing worse. On a year-to-date basis, the last time the index was doing this badly was in 2011. Concern about China's deteriorating relations with the U.S. and slowing economy are weighing, along with trepidation about rising rates in Hong Kong. The measure fell 0.3 percent at the open on Wednesday.
Even a world tech rally is bypassing Hong Kong's investors. Tencent Holdings Ltd., the city's biggest listed stock, sank 18 percent last quarter, its worst performance relative to an index of global technology companies since it started trading in 2004, amid growing pessimism over a Chinese regulatory crackdown on online gaming.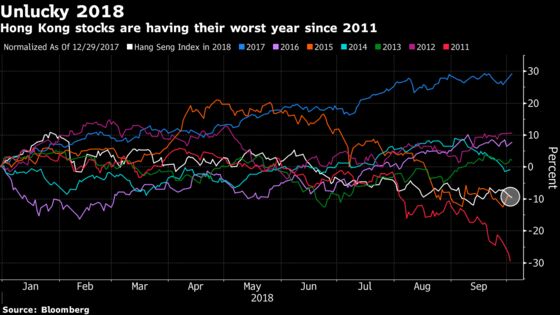 Slumping valuations may provide optimists some succor; at 10.3 times reported earnings, the Hang Seng Index is near the cheapest relative to the S&P 500 Index since 2000. Yet the gauge has typically traded at substantial discounts without triggering sustained rallies. Its average over the past seven years is just 11, compared with 18 for the U.S. benchmark.
As the Hang Seng Index extends a decline, its outperformance in 2017 and especially in January this year, seems more like an aberration; a reflection of the froth in global markets that helped propel bitcoin to records, than a conviction in the earnings of the city's listed companies.