There Is Still Money to Be Made on the Reopening Trade
(Bloomberg) -- The recent surge in shares linked to leisure and tourism shows there is still plenty of money to to be made on the reopening trade.
Korean travel agencies climbed on Wednesday as the country's first shipments of AstraZeneca's Covid-19 vaccines began while Japanese transportation stocks also gained on speculation that pandemic restrictions will be eased.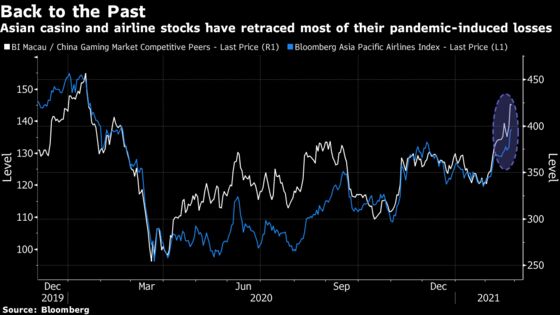 With more than 213 million doses of coronavirus vaccines administered across 95 countries globally, optimism about a reopening in economies and a resumption in travel is returning. Analysts say that trades betting on the reopening of economies have room to rally despite recent gains in commodities and cyclical stocks.
"Reopening plays including tourism and airline stocks will continue to benefit from the easing of rules and vaccinations," said Joel Ng, an analyst at KGI Securities (Singapore) Pte., adding he sees these shares as "short-term trades" until the global economy is back to its pre-pandemic levels.
An analysis by Bloomberg Economics' economist Maeva Cousin shows that of the world's largest 40 economies, the Philippines, Thailand, Mexico, Spain and Italy faced the biggest net losses when airports and hotels closed and so have the most to gain when the Covid-19 crisis finally ends.
GLOBAL INSIGHT: Who Wins Most When Post-Covid Tourism Resumes?
On the flip side, investors holding pandemic winners are now facing steep losses. Clinic-glove makers are an example. Malaysia's top four manufacturers have lost more than $5 billion of their value as global vaccine rollouts accelerate and short sellers pile in. Almost all of these glove makers are trading at record low forward earnings estimates, according to data compiled by Bloomberg.