Many Theories on Why Taiwan Dollar Rises as Foreigners Flee
During the most severe week of foreign outflows from Taiwan's equity market since 2011, the local dollar did something strange: it strengthened.
Market watchers offered several theories for the gains. Some speculated that local companies are speeding up repatriation of investments, an initiative encouraged by the government. Others said Taiwan's insurers may be bringing back cash from redemptions of their foreign investments. Foreigners could also want to buy Taiwanese stocks again soon, meaning they would refrain from converting local money into U.S. dollars.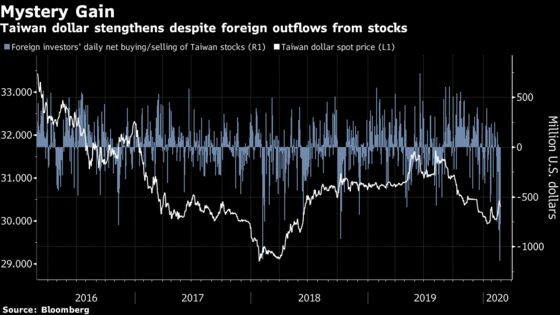 "I suspect the money is staying as foreign investors also expect this to be short-lived and will look for buying opportunities again," says Stephen Chiu, an Asia currency and rates strategist at Bloomberg Intelligence. "Another thing is the capital repatriation scheme is still ongoing and could be one structural support."
Overseas investors yanked $3.1 billion from Taiwan's equity market last week, including Wednesday's biggest single-day outflows since 2014. The Taiwan dollar rose 0.2% in the period and strengthened another 0.8% as of the mid-day break Monday after a holiday.
Taiwan stocks dropped 0.9% as of 12:47 p.m., with Taiwan Semiconductor Manufacturing Company falling 1.3% as the biggest drag to the index. Foreign investors net sold TSMC shares for a tenth day through Thursday, the longest streak since May, according to data compiled by Bloomberg. Taiwan markets were closed Friday for a holiday.