The Year's Biggest Buyout Could Make Life Tough for Investors
(Bloomberg) -- The biggest buyout of 2018 has been a resounding success for the borrower, but for investors in Europe the result could be problematic.
Refinitiv's debt financing roused a wave of demand across Europe and the U.S., with orders totaling more than double the $13.5 billion of bonds and loans it needed to raise. The scale of the response was spurred on by a ravenous bid from collateralized loan obligations and other investors amid fears that there may be fewer new deals going into the fourth quarter.
But this cross-border momentum could pose troubling questions for investors after the Thomson Reuters Corp. spinoff made only a few changes to its documentation. The borrower-friendly elements of terms are mostly untouched including all their "tricks and traps" and "flaws and loopholes", as described by credit research firms Xtract Research LLC and Covenant Review LLC.
Some investors are concerned that Refinitiv will now set a precedent for the next round of new issuance. The deal's success showcases a deep bid for leveraged debt that could encourage sponsors to pursue more large LBOs, but fund mangers see the documentation as a retrograde step given it reflects conditions from earlier in the year before resistance gathered against aggressive terms.
Read More: Lenders Stage Coup Armed by Second Quarter Loan Supply
In terms of pricing, Refinitiv's term loan is more expensive than it would have been a year ago. But the company did price at or inside talk on all of its euro-denominated secured loans and bonds, albeit with a downsize on the unsecured notes. This overall result could embolden other issuers to seek tighter pricing than they might have had to pay in June or July, when investor discipline was clearly in evidence.
Running a few days behind, the buyout financing for AkzoNobel Specialty Chemicals is adding its weight to the tone set in Europe by Refinitiv. With a loan and bond book in euros and dollars worth more than 17 billion euros ($19.9 billion) for a 6.5 billion euro debt package, the issuer has proposed a short list of changes to its otherwise borrower-friendly loan documentation.
Pricing has also tightened, to a margin of 375 basis points from 425 basis points on the euro-denominated loan, and to 6.5 percent on the unsecured notes from initial talk of high 6 percent to 7 percent.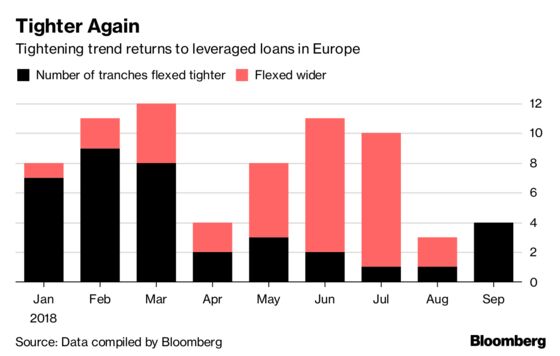 But not every transaction is a cross-border, multi-asset jumbo buyout. Nor will every deal benefit from U.S.-driven momentum or have been so long-awaited as these two.
Deals spanning the European and U.S. markets can draw tickets from a wide range of investors who are attracted by the liquidity offered by large financings. Further boosting demand for euros, some U.S.-based fund managers are happy to lend in either currency. And on documentation, U.S. and European investors sometimes care about different features, which can make pushback more difficult on a cross-border deal.
But a mid-sized loan with a tough credit story, marketed in Europe only, might yet find that investors demand a rich margin and resist overly loose documentation, regardless of the market's ebullient response to Refinitiv and AkzoNobel Specialty Chemicals.
"I would not call this the establishment of a new precedent term, but rather a complex situation allowing for maximum flexibility due to large investor interest, cross-Atlantic marketing and a high profile deal," said Sabrina Fox, head of European high-yield research at Covenant Review.
Bloomberg LP, the parent company of Bloomberg News, competes with Thomson Reuters in providing news and information.
(Ruth McGavin is a leveraged finance strategist who writes for Bloomberg. The observations she makes are her own and not intended as investment advice.)