Norway Wealth Fund CEO Says This Market Can't Continue Forever
(Bloomberg) -- The chief executive of Norway's sovereign wealth fund, Nicolai Tangen, says he's not expecting the surge in stock markets that helped him deliver a $123 billion return in 2020 to continue.
The fund's result -- the second highest in over two decades -- will be "very difficult to replicate," he said in an interview with Bloomberg Television's Francine Lacqua and Tom Keene on Thursday.
"We do not think the stock market development can continue forever," he said. "The speculative behavior we are seeing is an indication of that."
The $1.3 trillion fund's 2020 performance was driven by a more than 12% bounce in its equity portfolio. Bonds returned 7.5% while real estate lost 0.1%. Tech stocks alone delivered a 42% return, led by the fund's holdings in Apple Inc. and Amazon.com Inc., which Tangen said was largely due to the "massive" increase in demand for such products during the pandemic.
Read: Norway Wealth Fund Saw 'Spectacular' Gain From Outside Managers
He also warned that "it's very clear" that record economic support measures are "what's been driving the markets. Whether that will continue is difficult to say."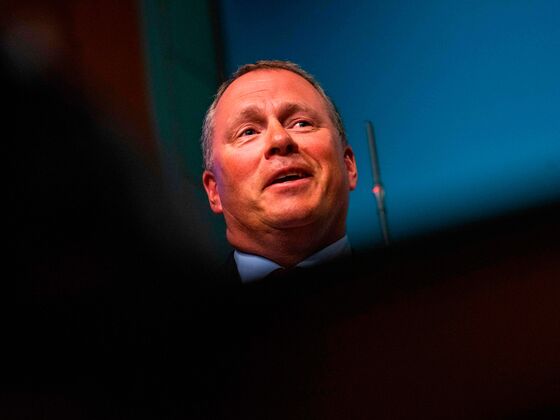 2020 was a dramatic year for Norway's wealth fund. Tangen, who started as chief executive in September, was brought in after a turbulent recruitment process and has already made clear he plans to change a few things at the investing behemoth. The 54-year-old wants to rely more on outside asset managers and technology to chase the best results. He's also said sustainability will become a bigger focus area.
On Thursday, Tangen said the fund has allocated almost $12 billion to environmental mandates. Meanwhile, outside money managers now look after 4.7% of the fund's giant portfolio, with fees allocated to those mandates more than doubling from a year earlier.
The fund made about $30 billion in returns just from its holdings in Apple, Amazon, Microsoft Corp., Tesla Inc., Alphabet Inc. and TSMC, according to Thursday's report.
Among its worst investments were the fund's portfolio of U.K. stocks, which lost about 70 billion kroner ($8 billion) last year. The fund lost about $10 billion on its oil and gas holdings.
Set up in the 1990s, the fund was created to invest Norway's oil and gas revenues abroad. The idea was to prevent the domestic economy from overheating, while preserving and building wealth for future generations. With holdings in about 9,000 companies, the fund owns about 1.5% of global stocks. It's in the process of raising its exposure to North American stocks, after having expanded the equity share of the overall portfolio to 70% from 60% in 2017.
Norway's government made record withdrawals from the fund last year totaling $34 billion, to fight the pandemic. The amount was more than the investment vehicle could cover just using its cash flow, forcing it to liquidate assets in its bond portfolio.