Market Melt-Up May Have Gone Too Far, Some Measures Indicate
The risk-on rally that rolled from December right on into the start of 2020 may be due for a breather, according to an increasing number of market analysts.
They point to indicators including valuations and positioning in futures and options that suggest stocks may be getting overextended. That's after the MSCI All-Country World Index added 1.4% since the month began, building on last year's 24% jump -- the biggest annual increase since 2009.
"There is still plenty to be concerned about," Andrew Lapthorne, global head of quantitative research at Societe Generale SA, wrote in a research note on Monday. "Valuations are a big risk going forward."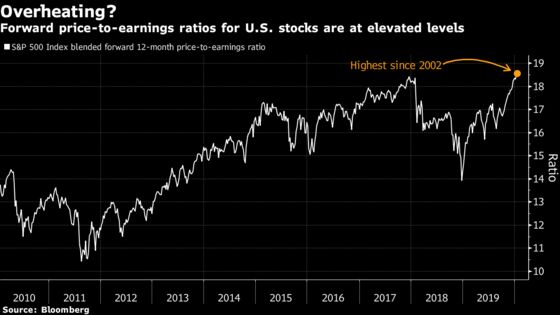 Forward price-to-earnings ratios for U.S. growth stocks have reached levels only seen in eight months over a span of three decades of data, according to Lapthorne. That only increases the focus on fourth-quarter results season, which kicked off in earnest on Tuesday with a blockbuster report from JPMorgan Chase & Co. and solid numbers from Citigroup Inc.
Sundial Capital Research analysts flagged another warning sign in recent days: options buying has overwhelmingly favored calls over puts in U.S. markets this month.
"As a percentage of total volume, speculative-call buying last week hit a level never seen in the past 20 years, and there was little in the way of protective-strategy volume as an offset," said Sundial president Jason Goepfert. "Extreme can always get more extreme," he wrote. "That doesn't mean it's a good bet."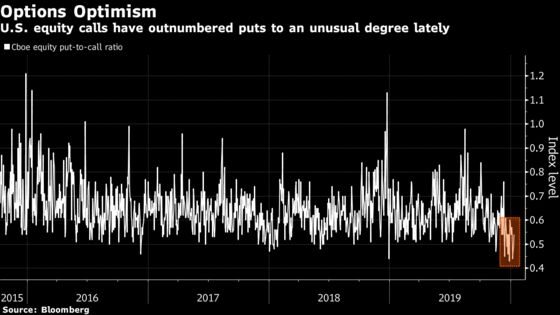 JPMorgan Chase & Co. analysts are among those pointing to "potential vulnerability in the event of negative shocks," strategists including Nikolaos Panigirtzoglou wrote in a research report Friday, though they note that their house view is still bullish on equities.
Speculative positions in U.S. equity futures by asset managers and leveraged funds "stand at even higher levels than the beginning of 2018," they wrote, citing data from the U.S. Commodity Futures Trading Commission, drawing comparisons with a period which saw strong gains in January turn into a drop of 10% for the S&P 500 Index through the close on Feb. 8 that year, coupled with a volatility meltdown that led to the implosion of some VIX-related products.
The investing public may also be starting to worry. The latest American Association of Individual Investors Sentiment Survey showed that pessimism among individual investors about the short-term direction of the stock market is at a six-week high.
Peter Berezin, chief global strategist at BCA Research, said on Friday that he advised a neutral view on global equities and high-yield credit for the next quarter, even though he is positive on a 12-month outlook and recommends buying the dip in the event of a retreat of about 5% from current levels. "Elevated bullish sentiment, against the backdrop of ongoing uncertainty about the outlook for global manufacturing and an uneasy truce between the U.S. and Iran, poses a near-term headwind to risk assets," he said.