Corporate America, the Market's Big Stock Buyer, Has $1 Trillion to Spend
(Bloomberg) -- The post-pandemic retail trading frenzy has drawn a lot of credit for driving stock prices to a series of record highs. Yet overlooked is the return of an even bigger force in the equity market: corporate America.
From Apple Inc. to Bed Bath & Beyond Inc., U.S. companies have announced plans to buy $1.06 trillion of their own shares since January, almost triple the level at this time last year. At an average weekly rate of $22 billion, the pace is poised to surpass the record $1.11 trillion set in 2018, data compiled by Birinyi Associates and Bloomberg show. 
The buybacks have surged as businesses' cash stockpiles hit an all-time high amid a boom in profits. The scale of the purchases from corporations -- who are less sensitive to the price of their stock -- is seen by some as a key support for the market, despite a chorus of warnings on everything from stretched valuations to a more hawkish shift by the Federal Reserve on monetary policy.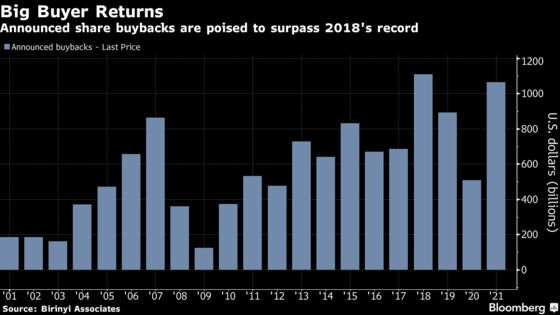 "Corporations will be the largest source of U.S. equity demand in 2022, as they have been for most of the past decade," Goldman Sachs Group Inc. strategists led by David Kostin wrote in a note. They said even a proposed tax on buybacks would do little to slow it. "We expect the proposed 1% net buyback tax, if implemented, would have only a marginal impact on corporate equity demand." 
To be sure, the planned repurchases are usually intended for multiple years and not all of them will get executed. And for technology firms, they are often meant to offset the increase in shares that comes from granting options to employees. 
Still, the splurge offers some comfort for bulls. During some past market routs, companies rushed to snap up their own shares to prevent losses from snowballing -- a type of support that could buffer another downturn. The buybacks are also mitigating the impact of share offerings, which are exploding as companies take advantage of elevated valuations to raise money.
Going by the estimate from Kostin's team, net corporate demand will total $360 billion next year, well above the forecast $200 billion from households. 
How companies use record levels of cash has become a hot-button issue after former President Donald Trump's 2018 tax overhaul brought hundreds of billions of dollars of relief to corporations. These bonanzas for shareholders have been blamed for contributing to a widening wealth gap among Americans because more high-income families invest in stocks than low-income ones. 
Meanwhile, corporate America's obsession with its own stock is often criticized as a sign that business leaders are appeasing shareholders in the short term at the expense of long-term strategies focused on capital investment. While recent research has suggested that companies are so flush that they can boost spending on both activities, the scale of this year's buybacks may further fuel that debate.
To Malcolm Polley, president and chief investment officer at Stewart Capital Advisors LLC, the renewed interest in repurchases makes sense given how low the cost of borrowing is right now. 
"What it's telling you is that corporate America doesn't see a better option for the use of their cash," he said. "Is it a big deal for the market? Maybe. It certainly can support some company stock prices."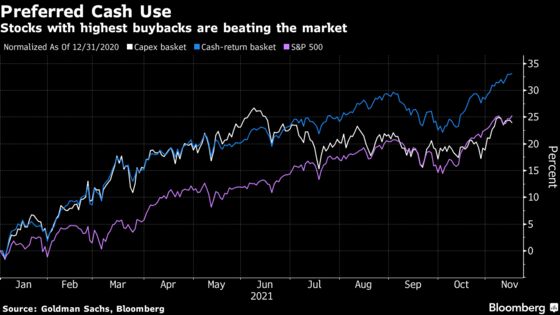 A Goldman basket of big spenders on buybacks has surged 33% this year, outpacing the 25% gain from the S&P 500. Meanwhile, a similar gauge for firms that spend the most on capital investment is roughly in line with the broad market. 
With bond sales showing no sign of abating heading into the year-end, the credit boom will likely bolster share buybacks, according to Brian Reynolds, chief market strategist at his namesake firm. 
"The indications are that credit flows are going to accelerate and that the annual December and January corporate bond issuance surges will be successes," he wrote in a note to clients. That's "generating even more fuel for stock buybacks designed to push stock prices to new highs."