The Spectacular 955% Surge of a Debt-Ridden Shipbuilder's Stock
(Bloomberg) -- The tiny preferred stock of a Korean shipbuilder, which has built up debt in recent years, has surged this month as retail investors seek short-term returns amid low liquidity.
The preferred stock of Samsung Heavy Industries Co., with just 115,000 shares outstanding, had a market capitalization of $54 million as of Tuesday, after rising 955% this month. It has gained by the daily limit almost every day since June 2, after the company announced it won an order from Qatar on LNG carriers along with other shipbuilders. The company's common stock, with 630 million shares, gained a mere 8.8% since the deal was announced.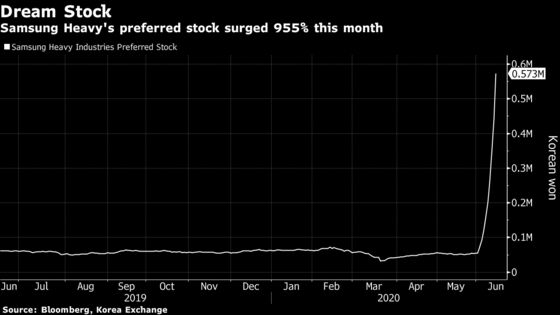 "You can buoy the preferred stock only by buying a small number of shares. Samsung Heavy is not in a situation that can offer payouts to shareholders now," said Lee Hyun-Soo, an analyst at Yuanta Securities Korea Co. "There's little merit to holding a preferred stock. It's not a usual situation."
Individual investors seem to be betting on the company's improved finances as it had been suffering from its debt burden, according to Park Moo-Hyun, an analyst at Hana Financial Investment Co. who covers the shipbuilding industry. As of end-March, the company had 3.6 trillion won ($2.98 billion) of net debt, rising from 980 billion won a year earlier, he said.
"The company managed to survive because of the order from Qatar," Park said. "Retail investors seem to be leading the rally."
Unlike other countries, preferred stocks in Korea are usually targets of retail investors for short-term trading, according to Jeon Kyungdae, chief investment officer at Macquarie Investment Management Korea.
"They target names that professional investors don't trade, because it's easy to buoy the stock that lacks liquidity. But the point is, this kind of phenomenon will accelerate for a while because retail investors are leading the entire market. And the behavior will lead to higher volatility --- as we saw the plunge in tech-heavy Kosdaq yesterday."