The Santa Rally Grinch May Be Recession Fear: Taking Stock
(Bloomberg) -- Investors' relief from the U.S.-China truce on the trade front was short-lived. Wall Street plummeted after the European close yesterday, with the S&P 500 losing 3.2%, breaking below both its 50- and 200-DMA and the 10-year Treasury yields falling to 2.91%, further flattening the yield curve. Overnight, China officially echoed President Donald Trump's optimism over the trade talks, fueling a timid rebound in U.S. futures, but nothing to reverse Tuesday's damage. Euro Stoxx 50 futures are down 0.9% ahead of the European open.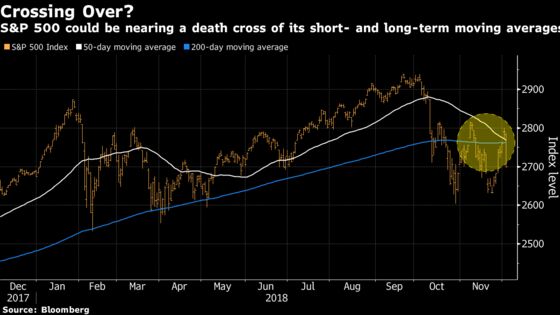 So what's the malaise now?
December usually delivers superior returns for stock markets and as we move deeper into the month, the expectation of a year-end rally is in investors' minds. But is there really one in the making? Credit markets certainly aren't bullish, as indicated by the Itraxx Europe still standing at its highest level in two years. So could things be about to change?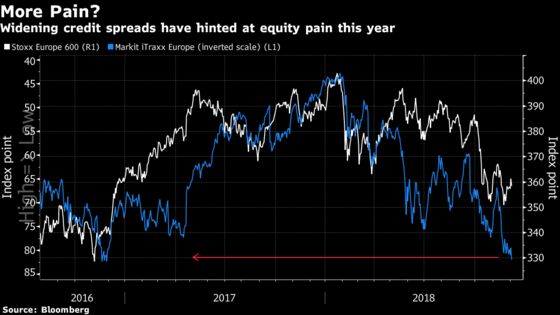 The past few days delivered several early end-of-year gifts to equity markets: Presidents Xi and Trump went back to the negotiation table at the G-20 summit, Fed chairman Powell adopted a more dovish tone and the Italian government is willing to discuss its deficit target. And yet that hasn't been enough to inspirit markets, and investors have resumed the "sell on strength" habit initiated in September.
It seems there's always something stopping the market's attempt to rally. This year has seen the rate hikes and the U.S. 10-year yield reaching 3.2 percent, European politics or trade wars to name a few. Now it seems traders are becoming obsessed with the flattening yield curve. The inversion of the 2-year, 10-year yield curve has indeed been a good indicator of an incoming recession in the past, although such a downturn tends to materialize 18 months later on average, according to JPMorgan strategists. That curve has not inverted yet.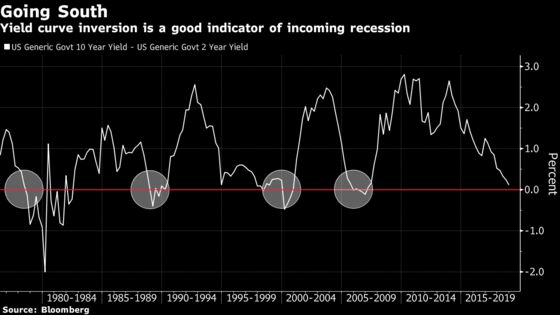 There are some reasons to be cheerful in the short-term, though. "The path for near-term market upside is largely clear and the pain trade is on the upside," JPMorgan strategist Marko Kolanovic wrote in a note to clients. Kolanovic highlighted the low equity exposure from hedge funds and the low put/call options ratio, which is an indicator of bullish sentiment, as further positive points for equities. And the political necessity for the Trump administration to avoid an escalation of the trade war after losing the House, may also help, they said.
Finally, a word on the U.K. where a crucial parliamentary vote for Theresa May's Brexit plan is due on Dec. 11. The Parliament has started a five-day debate, with opposition to the deal gaining traction within both the Tory and the Labour parties. On Monday after the close, there was an interesting print in FTSE 100 options: a trade of 7,000 April 2019 puts, with a 6,500 strike. This was the first open interest on this line, in a "post-Brexit deadline" maturity. The premium paid was around 7 million pounds, for a notional of 500 million pounds. The rationale for the trade is unknown, but if this was a buying interest, it's a decent size downside protection.
Watch the pound and U.K. stocks after the European court ruling that the U.K. can unilaterally withdraw its Article 50 declaration to leave the European Union opened a whole new avenue in Prime Minister Theresa May's fight to get her deal through parliament. May was defeated in three key votes on Tuesday, one of which will give parliament the potential to decide on a "plan B" should her Brexit proposal be voted down, as is widely anticipated.
Watch for index changes after the indicative changes were released on Tuesday, but there are still a few names in close contention. For example, watch engineer Spirax-Sarco Engineering which, if it has a good day on Wednesday, could end up making its way into the FTSE 100, possibly at the expense of property-listings site Rightmove or takeaway-food aggregator Just Eat.
Watch travel and leisure as IAG will issue a trading update which should provide clues on how well both long-haul and short-haul flights are faring. Spare a thought too for package-holidays scion Thomas Cook Group, which has seen its shares hammered recently and is now reportedly having to reassure shareholders it has no plans to raise new equity. Incidentally, it will be one of the names relegated from the FTSE 250 this month.
Watch Italian equities after Corriere della Sera said Italian Finance Minister Giovanni Tria is "more tempted" to resign than before following the showdown between Italy and the European Commission on the country's budget plans. Italy could soon be dealing with its first recession in five years, in part because of the damage its budget battles are having.
"The sharp falls in the US overnight seemed to have reflected the whole gamut of concerns – a protracted trade war, a US recession, weakening PMIs etc," commented Jefferies strategist Sean Darby on email. "The bottom line is that equity markets have become increasingly Skittish as short rates continue to rise towards 2.4%-2.5% (where the Fed will hike to in December). But the yield curve has not inverted and there are no signs of financial distress."
Fortunes have been made by striking oil in risky places. That business model is about to be challenged by Swedish prosecutors, according to the top two officials at Sweden's Lundin Petroleum who are preparing to battle war-crime charges in court.
Daimler has raised the prospect of boosting its stake in a joint venture with Chinese partner BAIC Motor Corp., according to people familiar with the discussions, as the luxury-car maker seeks to gain more control over its operations in the world's largest car market.
The Shanghai-London stock connect may not start until after Christmas, China Business News reports, citing an unidentified person.
Telenet to Pay Out 50%-70% of Adjusted FCF as Regular Dividend
Eurofins Signs Outsourcing Agreement With Signify
Some UBS Clients Affected by Glitch in 'UBS Safe' App: CH Media
Dufry M&A Focus Is on Firms with CHF500m Revenue, CEO Tells FuW
Zurich on Track to Reach $1.5b Cost Savings Target by End-2019
Europris Aims to Open an Average of Five New Stores Net Per Year
Roche's Genentech Gets FDA Priority Review for Tecentriq
Orell Fuessli Seeks Acquisition Targets, Chairman Tells T-A
Altran North America Chairman Frank Kern to Retire
Clas Ohlson 2Q Operating Profit Misses Lowest Est.
VW Japan Discovers Errors in Test Data; to Brief Press in Tokyo
VW Tells Trump That Ford May Factor in Plans for U.S. Expansion
BT to Strip Huawei Equipment From Its Core 4G Network: FT
NOTES FROM THE SELL SIDE:
Liberum writes there's not enough swing supply or demand to support iron ore benchmark prices above $45/ton on six-month view, compared with spot price of about $65, maintaining "sell" ratings on BHP Group, Rio Tinto Group and Anglo American Plc. While prices have been strong all year, particularly in higher grades on "abnormally high" mill profitability, that's come to an end. As tight credit continues in China, and "with real estate rolling over," Liberum expects apparent steel consumption to be flat-to-negative, as seaborne demand declines.
TECHNICAL OUTLOOK for Stoxx 600 index:
Resistance at 365.1 (38.2% Fibo); 367.8 (50-DMA)
Support at 353.2 (50% Fibo); 341.2 (61%.8 Fibo)
RSI: 47.9
TECHNICAL OUTLOOK for Euro Stoxx 50 index:
Resistance at 3,233 (50-DMA); 3,262 (March low)
Support at 3,072 (61.8% Fibo); 2,921 (76.4% Fibo)
RSI: 49.7
MAIN RESEARCH AND RATING CHANGES:
UPGRADES:
Aker Solutions upgraded to buy at Kepler Cheuvreux; PT 59 Kroner
Bakkafrost upgraded to hold at DNB Markets; PT 450 Kroner
Bayer upgraded to buy at DZ Bank; PT 81 Euros
Bucher upgraded to neutral at Credit Suisse; PT 300 Francs
Epiroc upgraded to overweight at Morgan Stanley; PT 90 Kronor
HeidelbergCement upgraded to overweight at JPMorgan; PT 73 Euros
Hellenic Telecom upgraded to overweight at Barclays; PT 14 Euros
Motor Oil Hellas upgraded to buy at HSBC; PT 30 Euros
Salzgitter upgraded to neutral at Macquarie; PT 31 Euros
Assa Abloy cut to equal-weight at Morgan Stanley; PT 188 Kronor
Bpost cut to hold at KBC Securities; Price Target 17.50 Euros
Buzzi Unicem downgraded to neutral at JPMorgan; PT 20 Euros
Electrolux cut to underweight at Morgan Stanley; PT 210 Kronor
Fraport downgraded to underweight at JPMorgan; PT 70 Euros
Glaxo downgraded to equal-weight at Barclays
Hargreaves Lansdown cut to underweight at Morgan Stanley
KAZ Minerals downgraded to neutral at Macquarie; PT 6 Pounds
Kone downgraded to equal-weight at Morgan Stanley; PT 46 Euros
Landis + Gyr cut to underweight at Morgan Stanley; PT 58 Francs
Metso downgraded to equal-weight at Morgan Stanley; PT 29 Euros
Osram downgraded to equal-weight at Morgan Stanley; PT 40 Euros
Saint-Gobain downgraded to neutral at JPMorgan; PT 40 Euros
Schindler cut to underweight at Morgan Stanley; PT 202 Francs
Scottish Salmon Co Plc/The cut to hold at DNB Markets
Tarkett downgraded to underweight at JPMorgan; PT 20 Euros
Ted Baker downgraded to hold at HSBC; PT 14.50 Pounds
Tele Columbus downgraded to hold at Bankhaus Lampe; PT 4 Euros
Telefonica Deutschland rated new buy at Nord/LB; PT 4.20 Euros
MSCI Asia Pacific down 0.9%, Nikkei 225 down 0.5%
S&P 500 down 3.2%, Dow down 3.1%, Nasdaq down 3.8%
Euro down 0.11% at $1.1331
Dollar Index up 0.15% at 97.11
Yen down 0.22% at 113.02
Brent down 1.5% at $61.1/bbl, WTI down 1.6% to $52.4/bbl
LME 3m Copper down 0.3% at $6192/MT
Gold spot down 0.2% at $1235.5/oz
US 10Yr yield little changed at 2.91%
MAIN MACRO DATA (all times CET):
9am: (SP) Oct. Industrial Production MoM, est. 0.5%, prior -0.68%
9:15am: (SP) Nov. Markit Spain Composite PMI, est. 53.3, prior 53.7
9:45am: (IT) Nov. Markit/ADACI Italy Composite PMI, est. 49.1, prior 49.3
9:50am: (FR) Nov. Markit France Composite PMI, est. 54, prior 54
9:55am: (GE) Nov. Markit/BME Germany Composite PMI, est. 52.2, prior 52.2
10am: (UK) Nov. New Car Registrations YoY, prior -2.9%
10am: (EC) Nov. Markit Eurozone Composite PMI, est. 52.4, prior 52.4
10:30am: (UK) Oct. Official Reserves Changes, prior $127.0m deficit
10:30am: (UK) Nov. Markit/CIPS UK Composite PMI, est. 52.1, prior 52.1
11am: (EC) Oct. Retail Sales MoM, est. 0.2%, prior 0.0%
11am: (EC) Oct. Retail Sales YoY, est. 2.0%, prior 0.8%