The Risks When China's Markets Start to Price in a Trade Deal
(Bloomberg) -- China's yuan once again demanded the spotlight this week, hitting its weakest level in more than a decade before surging amid hopes China and the U.S. might be making progress on a trade deal.
Stock traders bought into the rally. Hong Kong's Hang Seng Index, fresh from logging its longest string of monthly declines in 36 years, was helped by a massive short squeeze in yuan-earner Tencent; and mainland equities also advanced.
News of progress in the trade talks came after officials signaled more stimulus ahead to boost China's slowing economy, while a flurry of company earnings offered a look at how firms are coping. After dumping yuan-denominated shares in October, foreigners bought all of them back and more on Friday alone. Cynics might call this the triumph of hope over experience: there have been plenty of false dawns so far.
The yuan flirted with the closely-watched threshold of 7 against the U.S. dollar. Banks including Goldman Sachs, Standard Chartered and BNY Mellon said before this week's rebound that they expect the 7 mark to be breached within the next few months. The path is unclear for now: if talks at the G20 summit in Buenos Aires between presidents Donald Trump and Xi Jinping fall short, the U.S. is preparing to announce by early December tariffs on all remaining Chinese imports.
China's big banks saw earnings rise broadly in line with estimates, while Bank of China announced a $17 billion sale of preference shares to top up its capital levels. Elsewhere, PetroChina reported its best quarterly profit in four years. But a narrative that's captured traders' attention recently has been the "consumption downgrade" in the world's second-biggest economy. At a time when retail sales growth is slowing, investor alarm increased when China's biggest liquor maker, Kweichow Moutai Co., reported its weakest profit expansion in almost three years.
Read more:
Biggest Chinese banks report stable profit 
Crude's run fuels Petrochina 
Chinese stocks got a boost as investors baked stimulus expectations into their forecasts, but arguably the rest of the Chinese market is catching up with growth proxies in the banking sector.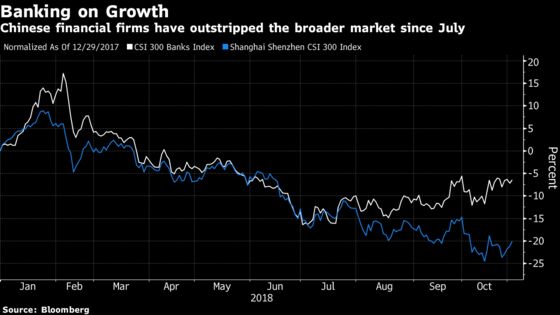 Here's what else caught our eye:
Chinese exchange-traded funds are flying off the shelves with record inflows during October.
U.S. charged a Chinese state-owned enterprise with conspiring to steal trade secrets from Micron Technology Inc.
BlackRock is said to be in talks to buy a majority stake in a Chinese asset manager
Baidu sees a future where people sing karaoke and eat hotpot in self-driving cars.
The cannabis industry is trying to part Asia with its money.