The Risk Rally Hasn't Been This Reliant on the Fed Since 2012
(Bloomberg) -- Markets are likely to be jittery as Federal Reserve Chair Jerome Powell testifies to the Congress on Tuesday, judging by the first two months of the year.
The Fed's infamous U-turn that took expectations for rate hikes this year to zero has led to a drop in real borrowing costs and a subsequent rally in equities, creating a degree of divergence between the two last seen when Ben Bernanke helmed the central bank in 2012.
The opposite moves in rates and equities -- the five-year yield on inflation-linked Treasuries has tumbled by more than 50 basis points since mid-December, while the S&P 500 Index has surged 19 percent since Christmas -- has been so persistent over the past 40 sessions, the pair are diverging to an extent that's only occurred 2 percent of the time over the past decade.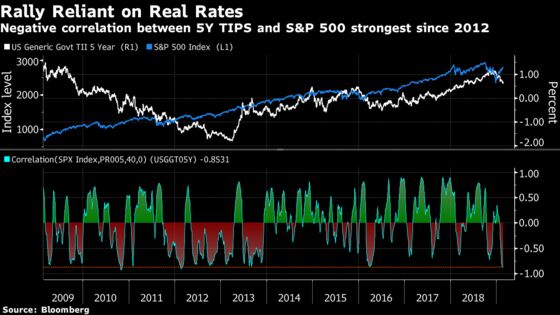 The negative correlation between real yields and equities was last stronger in 2012, as investors awaited further Fed measures to stimulate activity on the heels of Operation Twist the prior September. The central bank would ultimately announce a third round of quantitative easing later in September 2012.
And it isn't just stocks that are benefiting from the plunge in real interest rates.
Neil Azous of Rareview Macro says falling real yields are driving more than 80 percent of the movement in a whole host of asset classes -- including gold, crude oil, copper, high-yield as well as investment-grade debt and REITs.
"Said differently, major assets are doing what they are doing because of the dovish shift by the Fed,'' concludes the managing member of the Stamford, Connecticut-based independent research firm.
With earnings per share estimates for S&P 500 companies in 2019 continuing to fall, the risk rally has been fueled by multiple expansion –- a willingness to value stocks more richly -– made easier by tumbling real rates.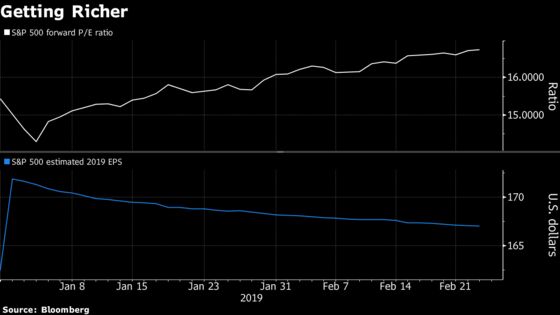 "What makes the current setup in equities painful is that there is little runway for real yields to continue falling unless crude oil goes up by a very significant amount or the probabilities for an interest-rate cut are pulled forward from the fourth quarter of 2019,'' Azous wrote.