Research Analysts' Existential Crisis Enters MiFID II Era
(Bloomberg) -- Fewer client calls, more red tape and an ever greater pressure to pen attention-grabbing research: These are some of the ways the life of an analyst has changed in Europe since the implementation of new financial regulations.
The revised Markets in Financial Instruments Directive, which took effect a year ago, crystallized a longstanding existential crisis for research analysts. By forcing investors to unbundle trading fees and research costs, the rules put a price on analysts' ramblings, models, ratings, private briefings and the like. Work that used to be effectively subsidized by trading commissions and relationships with corporate clients now has to be judged -- and priced -- on its own merits.
It's no wonder then that the first year of MiFID II has seen a further drop in research headcount, contraction in coverage of smaller companies and industry consolidation in Europe. While research providers are still experimenting with pricing and users are reviewing their needs, the message is clear: You need to be at the top to survive.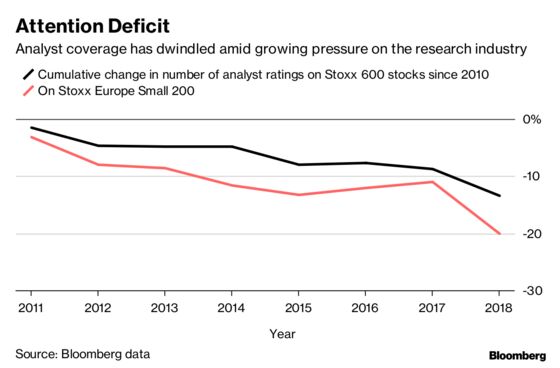 "There'll always be in our view a need for outsourced, commonly shared experts on different topics," said Bruno Monteyne, an analyst covering retail stocks for Sanford C. Bernstein Ltd. in London. "Do you need so many of them? No. Do you want to have a different shade of product to make sure that you can stand out? Yes. And it probably means that if you're not one of the top three-ranked people on the sell-side, it's probably very hard to make money."
And it's not just MiFID II. With the long-term decline of trading revenue and the rise of passive investing and automated trading, it's increasingly difficult for analysts to prove their worth, just as their budgets are being slashed.
Predictably, by putting a price tag on research, the European Union rules have made asset managers more selective about what they need, especially since most have opted to swallow research costs rather than pass them to clients. Many have also boosted their in-house analysis capabilities.
Consequently, there's even more pressure now to write reports with concrete conclusions, rather than trimming estimates by 3 percent on a stock rated "hold," said an analyst who manages a team and asked not to be identified discussing internal matters. Another analyst who also requested anonymity said calls on a stock are now more important than long-term thematic pieces. Anthony Codling, an analyst at Jefferies LLC who quit recently, said he reduced the amount of what he deemed "maintenance research."
"Why would a client pay to receive a note that says results are in line?" he said.
Those concrete conclusions are sometimes drawing rebuttals from companies. U.K. real estate services company Purplebricks Group Plc in February disputed Codling's analysis of its accounting, while lab-testing company Eurofins Scientific SE said "factually wrong estimates" from Morgan Stanley's Edward Stanley may have misled or confused investors. French grocer Casino Guichard-Perrachon SA contested research by Bernstein's Monteyne.
Of course, many analysts would say research always should have had demonstrable value, even before MiFID II; what's new is the intensifying competition for payments. But some lament that a new model that measures clicks and analyst interactions by the hour ignores the subjective quality of analysis.
While there have been murmurs about a supposed sensationalist turn in investment research, the caliber of analysts also is declining, meaning that one still sees meaningless reports, said Richard Buxton, chief executive officer of fund manager Merian Global Investors -- such as when a brokerage says the outlook for the mining sector is increasingly a macro call.
"The quantum of coverage is shrinking, the quality of coverage is definitely shrinking, and it's no surprise therefore that we are continuing to pay less and less for the research," he said from London. "We know good people are leaving the sell side, and that has to be a consequence of [the fact that under] MiFID II people are not going to earn the same amount of money as they used to as a research analyst."
Headcount for equity research at 12 major investment banks has declined 14 percent since 2013 to 1,200 as of the first half of 2018 in Europe, the Middle East and Africa, data from Coalition Development Ltd. show. Over the same period, the number of ratings on companies in the Stoxx Europe 600 Index has dropped 9 percent while the number on the Stoxx European small-cap index has fallen 12 percent, according to data compiled by Bloomberg.
To Robert Miller, head of research at Redburn, the biggest risk to the industry is the attrition of talent.
"Because of the deflation in the industry, the risk is that the best talent decides that they really need to work on the buy side or in the industry or do something completely different," he said. "The pool of high-quality, experienced talent in my industry is shrinking."
The industry is seeing more mergers as revenue falls. AllianceBernstein Holding LP, the asset manager that owns Sanford Bernstein, agreed in November to buy Autonomous Research, which specializes in financial stocks. Germany's MainFirst Holding AG last month took over Raymond James Financial Inc.'s institutional brokerage business in European stocks. U.S. securities firm Stifel Financial Corp., in turn, is buying MainFirst's equity research and brokerage operations.
Research houses are also exploring new sources of revenue. More are now charging companies for reports about them -- a "sponsored research" model that has spurred worries of conflicts of interest. Some firms say companies are paying larger retainers for brokerage services including research. One, French firm AlphaValue SA, is asking investors to "crowdfund" analyst reports.
Regardless, investment research -- an area of finance that can seem almost academic at times -- is becoming more metrics-driven. Many banks now charge explicitly for meetings and calls with analysts, making investors more selective about such conversations. These interactions are now recorded for compliance, with their value scored by the user.
"The battleground is interaction between research analysts and the buy side, who are increasingly adopting the accountant or legal industries' 'gas meter' model of by-hour pricing," said Ed Allchin, head of sales and business development at Autonomous Research in London. "This has made fund managers more reluctant to contact analysts because they may be charged each time, with thought going in to the economics of that call or meeting."
Gone are the days when investors would meet with analysts casually just because they happen to be in the area. There are now fewer ad-hoc meetings and more that are focused on specific subjects, said Redburn's Miller, even though the research firm doesn't charge by the hour. The number of calls fell at the start of the year, but has since recovered, said Bernstein's Monteyne.
Still, the realities differ for different research providers. Large investment banks can afford to sell analysis at lower prices, since it's just one part of a large business. Independent research houses do not have that advantage but can tout their conflict-free specialization. The jury is still out on who will ultimately emerge victorious, but increasingly the worry is that the smaller players will drown.
For investors, the concern is that shrinking analyst coverage, especially in small- and mid-caps, will make the market less efficient, with lower liquidity, though some say that could help active stock pickers. Already smaller companies are feeling the pressure to beef up investor relations resources, as they can no longer count on analysts alone to tell their story.
The rules may be amended. European regulators are studying their impact, including on smaller stocks and independent research providers. U.K. regulators will step up scrutiny of falling pricing models and research budgeting, while elsewhere in Europe, rules may be softened to lessen the blow on smaller companies, Bloomberg Intelligence said in a note on Thursday.
But little is likely to reverse the existential crisis in research. For an industry that thrives on dissecting numbers and predicting winners and losers, it makes sense that its value and future should now determined by market forces.
"Investment research is a declining industry given the cost pressures," said Ian Harnett, who left UBS in 2006 to start macro analysis firm Absolute Strategy Research Ltd. "If you survive through that process than maybe there is an opportunity to increase your market share. What we do not know is what the value of that market share will be in three years' time."