Tesla's 10,000% Options Surge Leaves Stock Gains in the Dust
(Bloomberg) -- What's better than Tesla Inc.'s surge? The near 10,000% potential winnings accruing to traders who held out-of-the-money call options.
Shares in the electric-car maker have soared more than 60% in six days to top $900 for the first time. Options traders who held calls that pay out at $800 have done even better, after they jumped from 25 cents to close at $24.22 Monday. The $1,000 calls rose from 2 cents to $1.98, a surge of 9,800%.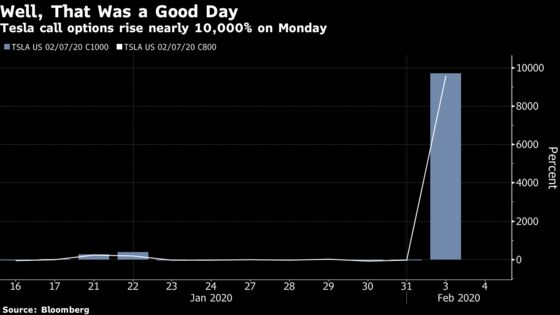 The fortunes allegedly minted via Tesla options have, naturally, corresponded with a surge in their popularity. The 10-day average call option volume more than doubled since early December, as has the underlying security. On Monday, 1.8 Tesla calls traded for every S&P 500 call, the biggest gap on record according to data compiled by Bloomberg.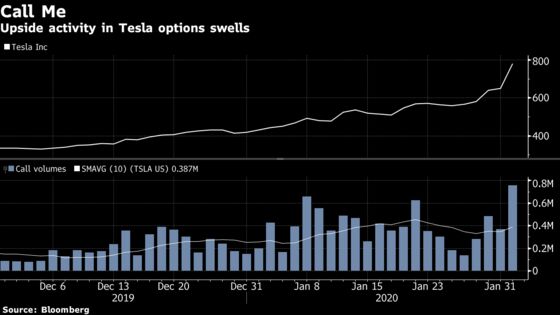 There's an element of circularity at play, but this activity may be contributing to the rally in the shares. When a trader buys a call, the dealer who sells it will typically buy a certain amount of stock in the underlying to offset their exposure. If the shares continue to rise, dynamically managing that hedge can entail increasing purchases.
"So, now you get the picture, that every day at the open lately, folks are grabbing call options quickly and driving the stocks/indexes higher," writes Scott Murray of Volatility Analytics. "It is much easier for this kind of market to be unhinged, as long call holders' corresponding dealer position is long the underlying."