The Machines Are Sitting Out the Trade War in Fresh Rally Threat
(Bloomberg) -- The machines might not be reading presidential tweets on trade, but they don't like what they see in the markets all the same.
Most trend-following short-term investors including commodity trading advisers and risk-parity funds have adopted a wait-and-see stance rather than chase the market higher, Masanari Takada, a quantitative strategist at Nomura Holdings Inc., wrote in a Tuesday note. But with renewed trade tensions threatening to derail this year's 16 percent rally in the S&P 500, there's the risk that such investors will start to unwind their long positions, according to the bank.
"We think it would be wise to remain wary," Takada said. "Fresh doubt has been cast on a positive resolution to U.S.-China trade tensions."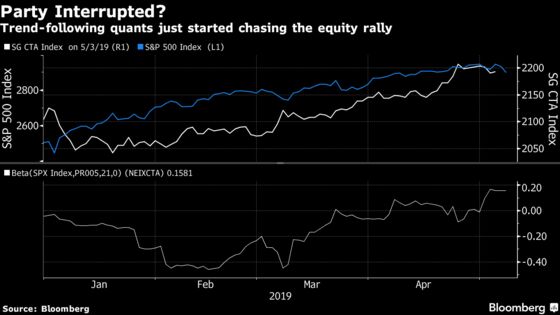 This year's steady bull run has been a boon to quants that feast on reliable momentum. Equity trend followers in April posted their best month in 15, a Societe Generale SA index shows. Similarly, risk-parity investors, which allocate assets based on volatility levels, have had a stellar year so far, thanks to stable gains in both bonds and stocks.
All this is in jeopardy after U.S. President Donald Trump threatened to raise tariffs on Chinese goods. Already, the VIX index, which measures expectations of market volatility, is set for its largest two-day jump since early December, while U.S. stocks headed for their worst day in more than a month.
Since risk-parity funds and commodity trading advisers use leverage to chase market momentum, both are often blamed -- at times unfairly -- for exacerbating market declines. But at least for now bonds have rallied as shares fall, capping losses for such investors.
Nomura estimates that since March, CTAs have bought S&P 500 futures at 2,915 on average, already 0.8 percent higher than index levels as of 10:38 a.m. in New York, raising the risk they will sell holdings to protect profits. As for Nasdaq 100 futures, Nomura estimates the cost was 8,030, 0.3 percent higher.
On the bright side, cautious positioning by other investors this year may help counter some selling pressure.
"Discretionary players (global macro [hedge funds], equity [long-short funds], etc.) had for the most part not been actively chasing the market higher in the first place, and thus handily dodged the sell-off," Takada wrote. "Global macro hedge funds in particular have taken profits on their short positions in U.S. stocks, and this short covering by contrarians actually lent some support to the market."