The Lowest-Rated Stock in the FTSE 100 Has Just One Lonely Fan
(Bloomberg) -- Pearson Plc will be greeted by a skeptical audience Wednesday when it publishes an update on how its business fared in 2018.
The U.K. education company is analysts' lowest-rated stock in the FTSE 100 Index, according to data compiled by Bloomberg. Brokerages see no end to Pearson's struggles with the shift from printed textbooks and course material to digital formats, lower college enrollments in North America and students' preference to rent textbooks.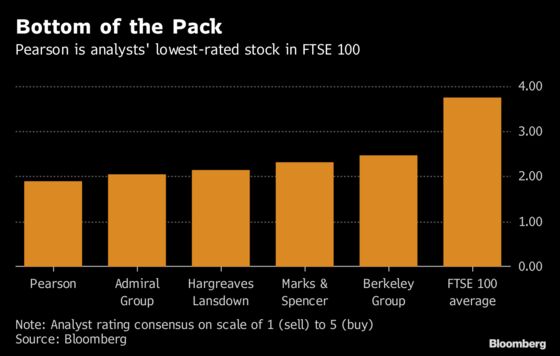 Even a 28 percent rally in 2018 -- the fifth biggest gain in the benchmark -- hasn't been enough to make brokerages embrace the shares. Pearson has 12 sell recommendations, seven holds and only one buy among analysts tracked by Bloomberg.
Meet Giasone Salati, the sole optimist. The analyst at Macquarie said his competitors have been scarred by Pearson's big profit warning two years ago, when the company cut its profit forecast and predicted years of gloom in its key U.S. textbook business.
"That shock was so big that consensus stopped looking at what was going on at Pearson -- they just put Pearson in the bucket of companies going to zero," he said in a phone interview.
Salati turned bullish on the stock in July 2017 and it's returned about 61 percent since then including dividends, a period in which the FTSE 100 has lost 1.5 percent. His view now: Pearson will benefit from a more supportive environment regarding federal government funding for education in the U.S., while technology should enable the company to regain control of its books by slowly moving towards a rental-only model.
"We already have enough proof that the shift to a rental-only model is working, and we're only at the beginning of that," Salati said. The number to look for in Wednesday's trading update is full-year organic revenue growth at the group level, which Macquarie estimates at 0.8 percent, he said. An improved growth outlook "will trigger substantial upgrades" to analysts' earnings estimates, he wrote in a note Monday.
It's not only brokerage analysts who are skeptical. Investors have sold short almost 13 percent of the company's stock available for trading, according to data from IHS Markit Ltd. Though short interest has come down from a recent peak in October, Pearson is still among the FTSE 100's most-shorted companies.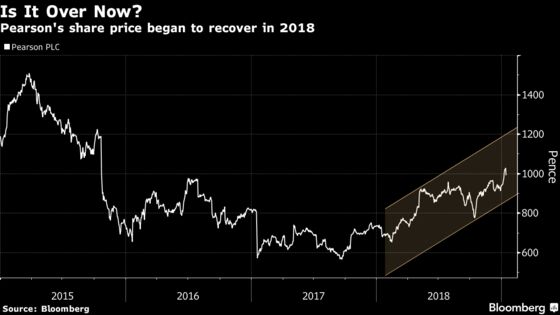 "It's been tough being the only buyer of Pearson," said Salati.
Pearson shares peaked in March 2015 at 1,508 pence and then slumped to a low of 566.50 pence in September 2017, weighed down by a string of profit warnings. However, 2018 saw a steady recovery as turnaround efforts under Chief Executive Officer John Fallon began to bear fruit.
Even with Pearson shares up 3 percent this year compared with 1.9 percent for the FTSE 100, you don't have to look hard to find critics.
Jonathan Helliwell, an analyst at Panmure Gordon & Co., said in a note that it was "highly premature" to consider Pearson a safe haven from wider U.K. or U.S. macro worries, even if the shares have enjoyed a rally.