Trap In Store for Bond Investors Who Skipped the Small Print
(Bloomberg) -- Investors of top-tier bonds probably haven't paid much attention to covenants in recent years. They may want to start.
An era of rising prices has laid a trap for holders of investment-grade notes that carry change-of-control clauses. And a boom in leveraged buyouts is threatening to spring it, according to HSBC Holdings Plc.
The oft-ignored options allow investors to hand their debt back at a pre-determined price, usually close to face value. They ensure a holder of high-grade bonds doesn't get stuck with junk-rated paper if a private-equity firm saddles debt on the company it's acquiring. The problem is most investment-grade bonds trade well above their issue prices -- so early payouts at around par would be unwelcome, too.
In fact it would translate into losses of 1 billion euros ($1.14 billion) on bonds of 44 companies HSBC has identified as potential LBO targets, according to Bloomberg calculations.
"Investment-grade investors have less of a tradition of paying attention to covenants," said Dominic Kini, quantitative credit strategist at HSBC in London. He's been encouraging clients "to pay a bit more attention" to covenant protection.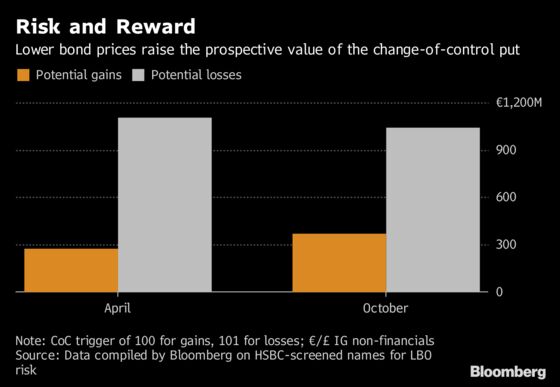 Of course, there are also gains in store for those who choose bonds trading below par before a credit-busting acquisition: a total of 370 million euros on early pay-outs at face value.
Sterling investors had to navigate confusing change-of-control documentation earlier this year when GKN Plc bonds trading below par jumped as Melrose Industries Plc made a bid for the British aerospace and defense contractor. It was also a warning, as GKN's above-par issues slumped as their change-of-control put was worthless.
As bond prices on the potential targets drift toward their CoC trigger, prospective losses are shrinking. Also, fewer of the notes are left out-of-the-money, where they're trading above their buyback triggers.
Thanks to October's selloff, which has pushed investment-grade spreads on euro-denominated debt to their widest levels in more than two years and the average price of in-the-money LBO candidates down a point last month to less than 98 cents, triggering a CoC may let some investors scoop up a jackpot.
"For bonds currently priced between 100 and 105 with CoC clauses, potential losses could turn into potential gains if their price falls through 100," said Song Jin Lee, a co-author of the HSBC report.