The Italian Job to End the Quarter: European Equity Pre-Market
(Bloomberg) -- Euro Stoxx 50 futures are down 0.2%, in a mild reaction to the new Italian budget. Yet, Italy have decided to give investors a headache by agreeing a budget with a 2.4% deficit. A target of 2% was seen by some analysts as the threshold for whether Italian bonds would rise or fall. The euro extended losses after the announcement, ending the day down 0.8%, the most since Aug. 10. Italian bonds are set to rise and the FTSE MIB might be weak as this move will put the Italian government at loggerheads with Brussels.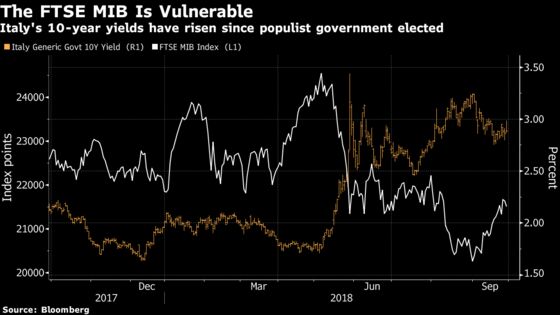 With Italy in focus, stocks to watch are UniCredit, Intesa Sanpaolo, Mediobanca and other Italian domestic lenders. Don't ignore Spanish lenders, should any widening of Italian bond yields be mirrored in Spanish bonds.
Outside Italy, keep an eye on airlines as Easyjet narrowed its profit view to GBP570m-GBP580m. The airline sector is down 18% so far this year.
Elsewhere, after U.S. markets ended the day in the positive but off their highs, Chinese markets are firmer with the Shanghai Composite now up 7% from its September low, the Nikkei is outperforming following a positive set of data, and as the yen holds near its weakest versus the dollar since early January. Metals are mostly on the rise.
So, is Europe a lost cause or is it the best time for positioning? European equities have now only three months left to try and catch up their U.S. peers and offset a net $43 billion outflow this year. Looking at the big picture, political noise and lower earnings growth cannot rival massive tax cuts and outstanding GDP growth. "This year, EPS growth in the U.S. was more than double that of Europe, courtesy of the cut in corporate tax rate," according to Barclays strategist Emmanuel Cau, "however, this won't be repeated in 2019."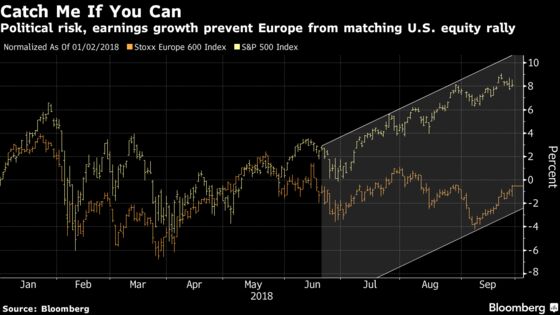 "Markets focus will remain on the Italian budgetary discussion. The government agreed on a 2019 budget deficit target of 2.4% of GDP, a marked increase from the previous government target of 0.8% and from the 1.6%-1.8% recently hinted by the Minister of Finance," Societe Generale analyst Guy Stear wrote in a note to clients.
NOTES FROM THE SELL SIDE:
BMW and Daimler are facing new challenges and while shares in both German automakers are cheap, the immediate upside looks limited according to Morgan Stanley. BMW's first profit warning in a decade highlighted a change in outlook. As for Daimler, autos is a momentum market and MS sees no evidence of positive momentum for the carmaker.
Berenberg says Fresenius Medical Care shares are "mispriced" as the market fails to credit the dialysis firm's ability to deal with risks and capitalize on opportunities presented by regulatory change. The bank rates the shares buy with a EU100.80 price target.
Boeing defeated Lockheed Martin, snaring a U.S. Air Force contest valued at as much as $9.2 billion to build training jets to hone the flying skills of future aviators. The contest pitted an all-new aircraft and flight simulators created by Boeing and Saab against entries based on existing models from a Lockheed-Korean Aerospace Industries partnership and from Rome-based Leonardo, bidding through its DRS subsidiary.
Faulty Rolls-Royce engine blades are deteriorating faster than expected, prompting additional groundings of Boeing's 787 jetliners for early repairs. The discovery affects about 120 Trent 1000 turbines, or about 8 percent of the global fleet.
All Eyes on Italian Stocks as Populists Win Budget Battle
EasyJet Narrows Headline Profit View to GBP570 Mln-GBP580 Mln
Activists Win Biggest Victory Yet in Germany With Thyssen Split
Boss Wanted to Rig Libor as Others Do, Deutsche Bank Trader Says
Coloplast Likely to Repeat Decade of Growth, Chairman Tells JP
United Utilities Current Trading In Line With Co.'s Expectations
Generali Italian Investors May Push for New Chairman: Sole
M&C CEO Fox to Leave With Immediate Effect, Seng Interim CEO
Stillfront Group Offering by Holder Prices 842k Shrs SEK183/Shr
Numis Sees FY Core Revenue Up 3%, 2H Sales Lower Than 1H
Nobina Second Quarter Operating Profit Misses Lowest Estimate
Equinor Said to Approach Chevron for Rosebank Stake: Upstream
Randgold's Congo Partner to Assert 'Rights' in Barrick Merger
Essity Starts Cost-Cutting Program, Sees Savings of SEK800m/Year
Astaldi Board Agreed to File for Creditors Arrangement: Sole
Roche Buys Immuno-Oncology Company Tusk Therapeutics
Accenture Not Interested in Publicis, May Eye WPP Assets: Echos
Investors Exit Stocks for Money Markets, EM Debt, Jefferies Says
Lukas Lundin Says All Family Assets for Sale at Right Price: DI
Seadrill 1H Adj Ebitda $192M Prior to Chapter 11 Emergence
Hexpol Buys 80% of MESGO for 168M Euros on Cash, Debt Free Basis
BASF, Letterone to Merge Oil & Gas Businesses in Joint Venture
Italy 5G Auction Bids Reach EU5.84b: Ministry
TECHNICAL OUTLOOK for Stoxx 600 index:
Resistance at 392.7 (July peak); 397.9 (May high)
Support at 384.3 (200-DMA); 383.7 (50-DMA)
RSI: 59.6
TECHNICAL OUTLOOK for Euro Stoxx 50 index:
Resistance at 3,464 (200-DMA), 3,537 (July high)
Support at 3,418 (50-DMA), 3,315 (38.2% Fibo)
RSI: 60.3
MAIN RESEARCH AND RATING CHANGES:
Direct Line upgraded to overweight at JPMorgan; PT 3.95 Pounds
Ekinops SAS upgraded to buy at Kepler Cheuvreux; PT 4.40 Euros
Golden Ocean upgraded to buy at SEB Equities
H&M upgraded to hold at SocGen; PT 150 Kronor
Lukoil GDRs upgraded to buy at HSBC; PT $89
Rosneft GDRs upgraded to buy at HSBC; PT $8.70
Telefonica Deutschland raised to overweight at Morgan Stanley
EON downgraded to hold at SocGen; PT 9.50 Euros
H&M downgraded to hold at Kepler Cheuvreux; PT 175 Kronor
S Immo cut to accumulate at Erste Group; Price Target 20 Euros
Tele2 downgraded to hold at SEB Equities; PT 120 Kronor
Northern Bitcoin rated new buy at Kalliwoda Research
Roularta Media Group rated new hold at Kepler Cheuvreux
TEN Entertainment Group rated new buy at Liberum
Wilh Wilhelmsen rated new buy at Kepler Cheuvreux; PT 51 Kroner
MSCI Asia Pacific down 0.6%, Nikkei 225 up 1.4%
S&P 500 up 0.3%, Dow up 0.2%, Nasdaq up 0.6%
Euro up 0.05% at $1.1647
Dollar Index up 0.05% at 94.94
Yen down 0.11% at 113.51
Brent up 0.1% at $81.8/bbl, WTI up 0.3% to $72.3/bbl
LME 3m Copper up 0.5% at $6216.5/MT
Gold spot up 0.1% at $1183.9/oz
US 10Yr yield down 1bp at 3.04%
MAIN MACRO DATA all times CET:
9am: (SP) Sept. CPI MoM, est. 0.2%, prior 0.1%
9am: (SP) Sept. CPI EU Harmonised MoM, est. 0.8%, prior 0.1%
9am: (SP) Sept. CPI EU Harmonised YoY, est. 2.3%, prior 2.2%
9am: (SP) 2Q F GDP QoQ, est. 0.6%, prior 0.6%
9am: (SP) 2Q F GDP YoY, est. 2.7%, prior 2.7%
9am: (SP) Sept. CPI YoY, est. 2.2%, prior 2.2%
9:30am: (SW) Aug. Retail Sales MoM, est. 1.0%, prior -1.0%
9:30am: (SW) Aug. Retail Sales WDA YoY, est. 0.6%, prior -1.2%
9:55am: (GE) Sept. Unemployment Change (000's), est. -9,000, prior -8,000
9:55am: (GE) Sept. Unemployment Claims Rate SA, est. 5.2%, prior 5.2%
10am: (NO) Oct. Norges Bank Daily FX Purchases, prior -450m
10am: (NO) Sept. Unemployment Rate, est. 2.2%, prior 2.4%
10am: (SP) July Current Account Balance, prior 500m
10:30am: (UK) 2Q Current Account Balance, est. -19.4b, prior -17.7b
10:30am: (UK) 2Q F GDP QoQ, est. 0.4%, prior 0.4%
10:30am: (UK) 2Q F GDP YoY, est. 1.3%, prior 1.3%
10:30am: (UK) 2Q F Total Business Investment QoQ, est. 0.5%, prior 0.5%
10:30am: (UK) 2Q F Total Business Investment YoY, est. 0.8%, prior 0.8%
11am: (IT) Sept. CPI EU Harmonized MoM, est. 1.8%, prior -0.1%
11am: (IT) Sept. CPI NIC incl. tobacco MoM, est. -0.2%, prior 0.5%
11am: (IT) Sept. CPI NIC incl. tobacco YoY, est. 1.7%, prior 1.7%
11am: (EC) Sept. CPI Core YoY, est. 1.1%, prior 1.0%
11am: (EC) Sept. CPI Estimate YoY, est. 2.1%, prior 2.0%
11am: (IT) Sept. CPI EU Harmonized YoY, est. 1.7%, prior 1.6%
(IT) Bank of Italy to Release 2Q Credit Conditions and Risk